Bold and the Beautiful Spoilers Wednesday, January 9: Beth's Memorial Service – Steffy Reaches Out to Hope – Another Threat for Reese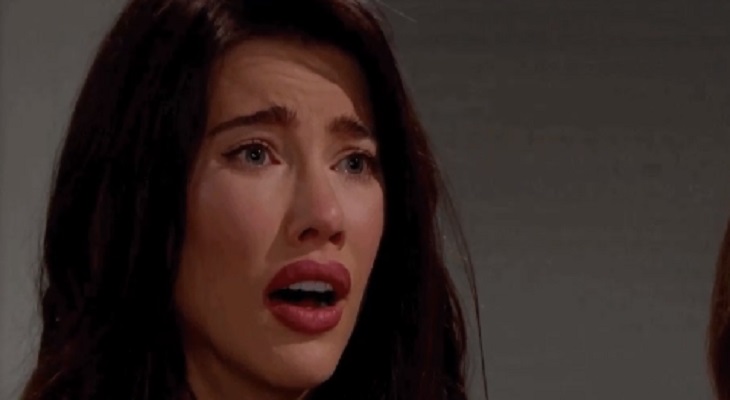 "The Bold and the Beautiful" spoilers for Wednesday, January 9, tease that it'll be time for an emotional goodbye. At the Forrester mansion, Eric Forrester (John McCook) and Quinn Forrester (Rena Sofer) will open their home to guests in mourning. Liam Spencer (Scott Clifton) and Hope Spencer (Annika Noelle) have suffered a terrible tragedy and they deserve a proper farewell for their baby.
Hope will seem weary and broken as she tries to deal with all this. Liam will be heartbroken as well, but he'll try to stay strong for Hope's sake. He knows he has to be his wife's rock right now. "The Bold and the Beautiful" spoilers say Hope and Liam's family members will rally around them. They'll show up to reflect on Beth's passing at this tough memorial service.
Bill Spencer (Don Diamont) will promise Liam that he's got his back. He'll be willing to do anything his son needs in the difficult months ahead. Katie Forrester (Heather Tom) will naturally be worried about the grieving couple, but Bill will think "Lope's" love can carry them through this. He'll have faith in the bond Liam and Hope share, but this ordeal is sure to test it.
Steffy Forrester (Jacqueline MacInnes Wood) will want to say a few words to Liam, too. She can't make Liam's pain go away, but she can at least let him know she's thinking of him. Steffy will be there for her ex, but she certainly won't ignore Hope. These two are often rivals, but they'll come together on this somber occasion. Steffy will also vow to help Hope as she struggles through such a horrible crisis.
Can we just take a moment to give @CliftonsNotes and Annika Noelle a round of applause for their amazing performances in these heartbreaking scenes? 👏 #BoldandBeautiful pic.twitter.com/k4d6Zk3XR7

— Bold & The Beautiful (@BandB_CBS) January 8, 2019
Other "Bold and the Beautiful" spoilers say Dr. Reese Buckingham's (Wayne Brady) panic will intensify. He tried to get that thug off Zoe Buckingham's (Kiara Barnes) back, but he didn't have any luck. The thug will make another threat through a texted photo on Wednesday. B&B fans will see Reese start to spin out, but he'll quickly realize what he needs to do.
Reese has already been making some shady moves, but more are looming on "The Bold and the Beautiful." We'll give you updates as other B&B news and rumors emerge. Stick with the CBS soap and don't forget to check CTS often for the latest "Bold and the Beautiful" spoilers, rumors, updates and news.
Want up-to-the-minute soaps news, spoilers, and gossip on your social feeds? Just hit 'Like' on our Facebook page and 'Follow' on our Twitter account.