Bold and the Beautiful Weekly Spoilers December 3 to 7: Taylor's Secret Exposed – Donna Wreaks Havoc – Marriages in Danger?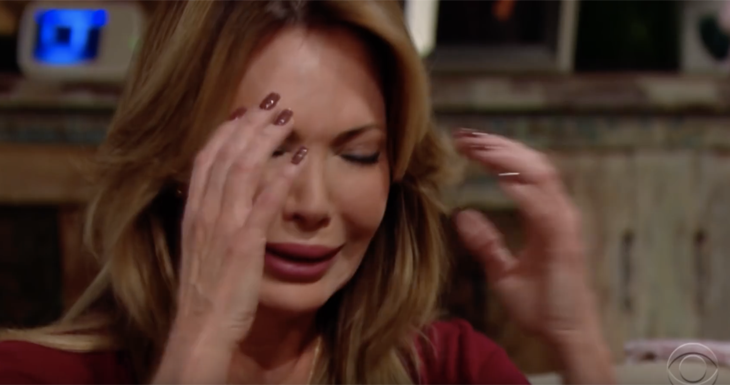 The Bold and the Beautiful (B&B) spoilers for the week of Monday, December 3 through Friday, December 7, 2018 reveal that Dr. Taylor Hayes (Hunter Tylo) returning to Los Angeles is causing nothing but problems for everyone she knows and loves. Steffy Forrester (Jacqueline MacInnes Wood) fights to protect her mother, by allowing her in her daughter, Kelly's life while Liam Spencer (Scott Clifton) exposes the dark, dirty truth about Taylor to his wife, Hope Logan Forrester (Annika Noelle).
B&B Spoilers Bill Works To Convince Brooke He Is A Changed Man
B&B sources tease Bill Spencer (Don Diamont) continues to try to prove to Brooke Logan Forrester (Katherine Kelly Lang) that he is a changed man and will not press charges against Taylor for trying to murder him that night. Brooke will angrily confront him about not revealing who shot him and having her arrested. Bill also reassures Brooke there is no woman in his way, not even his building "Sky"! Will Brooke fall for Bill's schemes and walk from current husband, Ridge Forrester (Thorsten Kaye)?
Bold and The Beautiful Spoilers – Bill Reassures Bill Taylor Is Not Dangerous
The Bold and the Beautiful spoilers reveal Bill will reassure his son, Liam that Taylor is not a danger to anyone, BUT him. Liam isn't convinced as he talks to Hope about how mentally unhinged Taylor really is. After Taylor has verbally attacked her daughter and Brooke, herself; B&B fans will definitely see a confrontation between these women bringing up past and present deeds – their paths and bitterness is absolutely not over! Taylor will sit down with her daughter, Steffy and Ridge, confirming her darkest fears, will this only cause bigger friction in Ridge's already fragile marriage?
Hope makes a good point. #BoldandBeautiful pic.twitter.com/4NZLICgyEQ

— Bold & The Beautiful (@BandB_CBS) November 29, 2018
B&B Spoilers – Pam Determined To Rid Eric Of Quinn
Pam Douglas (Alley Mills) is more determined than ever to rid Eric Forrester (John McCook) of his wife, Quinn Fuller Forrester (Rena Sofer), using Donna Logan (Jennifer Gareis) to do it. This week viewers of the CBS soap opera will see Pam distract Quinn while Donna will model for Eric; but will Eric fall for their shenanigans, after he has repeatedly told them how much he loves his wife?
Be sure to tune into CBS' The Bold and the Beautiful (B&B) on Monday, December 3, 2018 to catch up on all these exciting stories and so much more. Check Celebrating the Soaps often for updates, news, rumors and spoilers!
Want up-to-the-minute soaps news, spoilers, and gossip on your social feeds? Just hit 'Like' on our Facebook page and 'Follow' on our Twitter account.