Bold and the Beautiful Weekly Spoilers February 11 To 15: Angry Demands, Confrontations and Threats!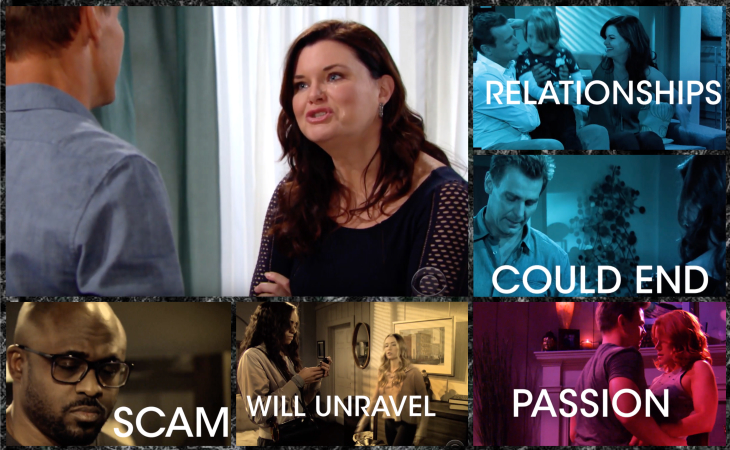 The Bold and the Beautiful (B&B) spoilers for the week of Monday, February 11 through Friday, February 15, 2019, reveal angry demands and confrontations. Loved ones defend each other, while threats are laid out. Shocking revelations shatter Valentine's day! B&B fans will not want to miss out on a moment of the excitement, beginning Monday, February 11!
B&B Spoilers Zoe Determine To Find Baby Truth
B&B sources show Zoe Buckingham (Kiara Barnes) is determined to find out the truth about baby Phoebe and this week she learns all the shocking details from Florence "Flo" Fulton (Katrina Bowden) about the scheme she worked with Dr. Reese Buckingham (Wayne Brady). Zoe is shocked and will threaten Flo and her father, Reese about calling the police or informing Steffy Forrester (Jacqueline MacInnes Wood) the truth about "Phoebe".
Bold and Beautiful Spoilers Steffy Concerned About Hope
Meanwhile, Steffy will voice her concerns about Hope Logan Spencer (Annika Noelle) spending too much time with the baby; Liam Spencer (Scott Clifton) will readily defend his wife, Hope. Hope will be more determined than ever, to remember everything that happened the night she delivered her and Liam's daughter, Beth and how she "died".
Today on #BoldandBeautiful, Zoe updates Xander about meeting Flo and her frustration that there are still many questions left unanswered. pic.twitter.com/fIdzVblfsy

— Bold & The Beautiful (@BandB_CBS) February 7, 2019
B&B Spoilers Thorne Makes A Confession
The Bold and the Beautiful spoilers tease that Katie Logan Forrester (Heather Tom) will be thrown for a loop when her husband, Thorne Forrester (Ingo Rademacher) doesn't want to spend a romantic Valentine's Day with her; instead of admitting what he truly feels about their marriage. How will Katie react to his startling news?
Bold and Beautiful Bill Determined To WIn His Family Back
Couple, Wyatt Spencer (Darin Brooks) and Sally Spectra (Courtney Hope) will thoroughly enjoy the day for lovers, spending some quality time in the bedroom. Later, a confused and hurt Katie will reveal to both Liam and Wyatt what Thorne has done to her and their little family. This is the perfect time for Bill Spencer (Don Diamont), who confesses to attorney and confidante Justin Barber (Aaron D. Spears) on how he is going to win his family – Katie and Will (Finnegan George) back! Will Katie fall into Bill's arms after Thorne's startling admission?
Be sure to tune into CBS' The Bold and the Beautiful (B&B) on Monday, February 11, 2019, to catch up on all these exciting stories and so much more. Check Celebrating the Soaps often for updates, news, rumors, and spoilers!