The Bold And The Beautiful Spoilers: Did Bill Really Throw Sheila Over The Balcony On Purpose?
The Bold and the Beautiful spoilers show that when Bill Spencer (Don Diamont) persuaded Sheila Carter (Kimberlin Brown) to confess to killing people, it seemed as though the investigation into the woman was finally coming to a conclusion.
However, this was quickly stopped when Sheila and Bill began fighting inside. Sheila was consequently knocked off the railing and onto the ground. She survived all of this without a scratch and hurried as quickly as she could to Deacon Sharpe's (Sean Kanan).
The Bold And The Beautiful Spoilers – Did Bill Spencer Do It On Purpose?
However, some viewers seem to think Sheila's tumble from the balcony wasn't an accident. One theory had it that when she ran toward Bill, he used the opportunity to wrestle with her a little and throw her over the balcony by himself, all the while planning to make it look like an accident.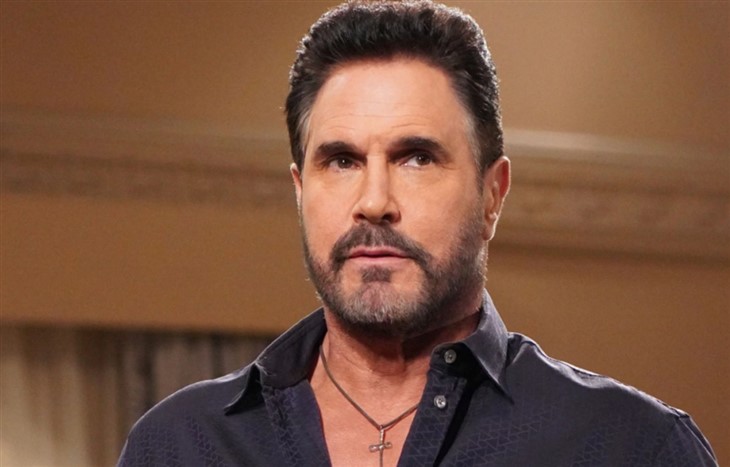 We kind of see a smile on his face when he looks over the railing and sees Sheila, suggesting he was happy it happened. Undoubtedly, as a consequence, the plot would become more dynamic. Will Sheila ever be able to explain that Bill threw her over the ledge and will Bill ever be held accountable?
B&B Spoilers – Do We Really Care If Bill Spencer Did It On Purpose?
Bill could have taken the chance and simply decided to eject her. But Sheila managed to get away unscathed. Why is this woman acting in this manner? More than what we can understand must be taking place. There is a thought that Sheila may have toiled with some ritual in the woods when she faked her death, and that she actually can't be killed!
This would explain how she was able to get up and walk away after being thrown from a balcony without a scratch and rush to Deacon's. There's always been something funky with Sheila, and this would set it over the edge with a supernatural mystery.
However, in the meantime I think we should just be happy that Sheila has been caught for the moment, but there is definitely something more going on and she has something up her sleeve. She always does! Bill might want to keep an eye on her even if she does appear on the ground dying.
What do you think? Could there be a chance that Sheila is supernatural and performed some kind of ritual to keep herself alive? Share your thoughts and remember to keep watching the CBS soap to see what happens next.
Be sure to catch up on everything happening with B&B right now. Come back here often for The Bold and the Beautiful spoilers, news, and updates.