The Bold And The Beautiful Spoilers: Eric's End Game, Ridge Passed Over – FC Reins Handed To Unexpected Youth?
The Bold and the Beautiful spoilers reveal that when Ridge "RJ" Forrester, Jr. (Joshua Hoffman) returned home, everyone assumed he would join Forrester Creations.
However, that didn't happen. Despite Ridge Forrester's (Thorsten Kaye) pleas, RJ had no interest in fashion design. Now RJ is designing for Eric Forrester (John McCook). However, could the whole arthritis and company war be a setup? Keep reading and we will explain why Eric could be lying about everything.
The Bold And The Beautiful Spoilers – RJ Forrester's Lackluster Return
B&B spoilers reveal that fans were excited when it was announced that RJ would be back. RJ has been in boarding school in Europe for quite a few years.
Now a grown man, RJ returned to Los Angeles as a social media influencer. Ridge kept trying to get RJ to join Forrester Creations but the young man refused.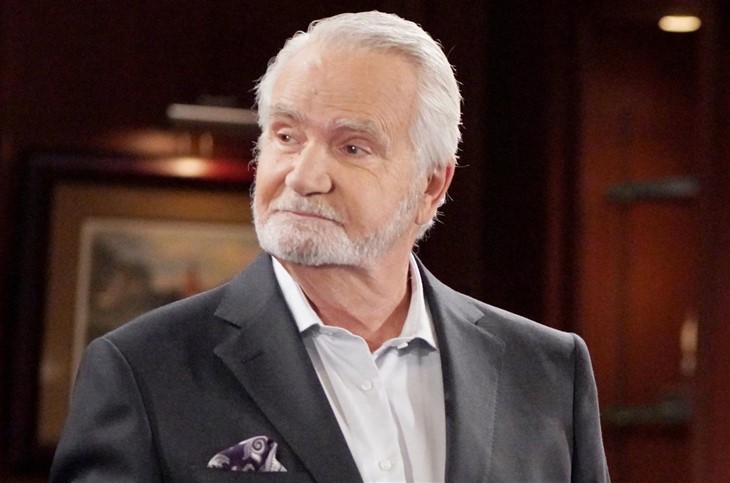 RJ's return also included him getting mixed up in Liam Spencer (Scott Clifton) and Hope Logan's (Annika Noelle) mess of a marriage.
Then, RJ questioned Hope about her dynamic with Thomas Forrester (Matthew Atkinson). Aside from that, RJ really hasn't done anything and certainly hasn't had a real storyline. So, the character is overdue to be on the front burner.
B&B Spoilers – Eric Forrester's Arthritis
RJ's brand-new story is kicking off with Eric and Donna Logan (Jennifer Gareis). Eric claims that he has arthritis and just wants one last "hurrah." For Eric, that means designing a line even if it is the middle of the year and a no-no in the fashion industry.
Eric couldn't hold a pencil but could play a masterful piece on the piano that same day. Normally, someone with arthritis would rub their knuckles after playing the piano. However, Eric didn't seem to be in any pain at all.
The Bold And The Beautiful Spoilers – Going Out With a Bang
The Bold and the Beautiful spoilers reveal that Eric could just fade away and retire as Ridge wants. However, Eric wants to go out with a bang… just like anyone else who has enjoyed a long career.
Eric has also been talking about his legacy a lot. It seems that Eric knows retirement is around the corner, but wants one last hurrah as well as making sure FC is put in capable hands.
One thing that Eric wanted was the same as Ridge… for RJ to jump into the design game.
READ THIS: Find out what happens next on The Bold and The Beautiful.
B&B Spoilers – Skipping Ridge Forrester
It's possible that Eric has plans to retire but doesn't want to leave the company in Ridge, Steffy Forrester Finnegan (Jacqueline MacInnes Wood) or Thomas' hands.
For one thing, Thomas is a masterful creative. However, people like that usually don't do that well being put in charge.
There is also Steffy, but she has too much personal drama. Steffy might be great at being a co-CEO. However, Steffy's personal drama will interfere with running Forrester Creations. There is also Ridge, who in a preview clip, tells Brooke Logan (Katherine Kelly Lang) that the company is his to do what he wants with.
That's a pretty egotistical and entitled statement. Eric hasn't even announced retirement yet. The patriarch certainly isn't dead yet, either. So, it's a big early for Ridge to be making declarations like that. Instead, Ridge should show a little humility and class.
With that being said, could Eric have no intention of leaving the company in Ridge's hands? Perhaps Eric feels that it is "destiny" for him to leave the company to RJ?
With RJ not having any interest in fashion design, this could be an elaborate scheme by Eric to convince the young man of his fate.
Be sure to catch up on everything happening with B&B right now. Come back often for The Bold and the Beautiful spoilers, news, and updates.
For more about what's happening on your favorite soaps and more ways to connect with us, join the conversation on our Facebook Page, check out our Twitter feed, look for an update on our Instagram, follow us on Threads , Always stay up-to-date with us on Google News, or drop us an e-mail HERE! See you there!