The Bold and the Beautiful Spoilers Friday, November 16: Ridge Suspects Bill's Rotten Motives – Brooke Hears Bill's Heartfelt Vow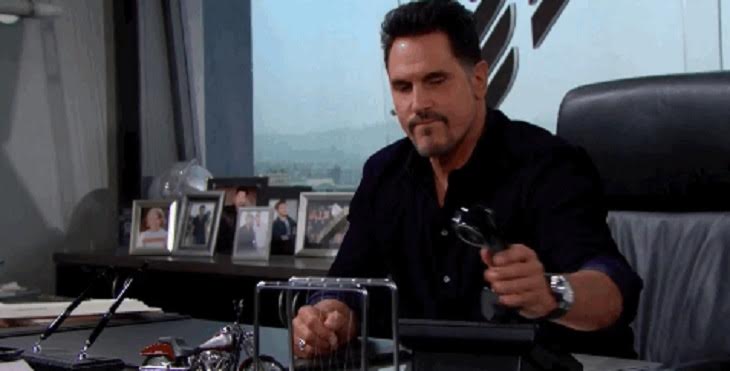 "The Bold and the Beautiful" spoilers for Friday, November 16, tease that Bill (Don Diamont) will continue his "changed man" speech. He'll make it clear that Brooke's (Katherine Kelly Lang) only going to see his softer side. Bill will assure Brooke that his dark days are behind him. He'll plan to keep this up and reiterate that he won't hurt Brooke again. That's just not the kind of person Bill wants to be.
Brooke certainly approves of the shift she's seeing. She was impressed with Bill's decision to let Ridge (Thorsten Kaye) and Judge McMullen (Joe Lando) off the hook for their crime. Brooke will definitely believe Bill's on the right track now. Of course, B&B spoilers say there'll be one thing missing for Bill. He'd love to have Brooke back in his life romantically.
Bill may bring that up, but Brooke's still a married woman. Despite Ridge's horrible behavior lately, she intends to stand by him. However, "The Bold and the Beautiful" spoilers state that Bill will make a heartfelt vow. He might contend that when Ridge inevitably disappoints Brooke again, he'll be waiting. Bill will think he can truly be the better man this time around.
The Spencer brothers, Liam, Wyatt and Will, spend time together. WATCH FULL EPISODE: https://t.co/0Y0KDQ7f6g #BoldandBeautiful pic.twitter.com/OgZqKLx156

— Bold & The Beautiful (@BandB_CBS) November 15, 2018
Meanwhile, Ridge will suspect Bill's motives are rotten. He's glad he's not headed to the slammer, but he knows Bill just earned major points with Brooke. Ridge will chat with Katie (Heather Tom), Thorne (Ingo Rademacher), Wyatt (Darin Brooks) and Liam (Scott Clifton) on Friday. He'll fill them in on what be believes Bill's up to.
Ridge may suggest this whole "changed man" thing is just a play for Brooke's heart. He'll worry that Brooke's going to fall for Bill's angle, but he'll do whatever he can to preserve his marriage. Ridge might hope to straighten up himself for once. He needs to dial down his own misdeeds if he wants to keep Brooke content.
Has Bill really changed or is this all an act? Could he end up sabotaging "Bridge" and prompting a "Brill" reunion? "The Bold and the Beautiful" spoilers say some great scenes are coming up. We'll give you updates as other B&B news and rumors emerge. Stick with the CBS soap and don't forget to check CTS often for the latest "Bold and the Beautiful" spoilers, rumors, updates and news.
Want up-to-the-minute soaps news, spoilers, and gossip on your social feeds? Just hit 'Like' on our Facebook page and 'Follow' on our Twitter account.