The Bold and The Beautiful Spoilers: Kimberlin Brown Talks Sheila & Quinn – Teases 'She May Come Out On Top Next Time' #Team Sheila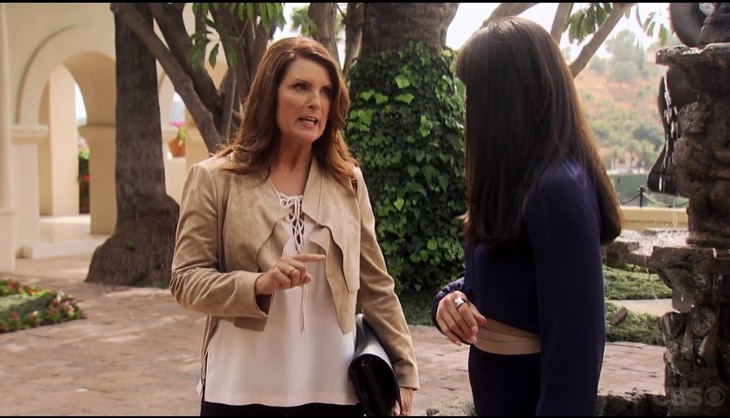 "The Bold and The Beautiful" Kimberlin Brown, who's famous character the devilish Sheila Carter has made an epic return. Sheila is just too much, she is just the right kind of villain we LOVE to hate. Sheila has quite the record playing nasty and will go to any, any lengths to get what she wants, or what she thinks she deserves.
"B&B" sources have shown us that Sheila returns to reunite with Eric Forrester (John McCook). Although Quinn (Rena Sofer) and Eric were headed for divorce, when Sheila showed up, Eric has since torn up the papers and decided to forgive Quinn. That is not going to sit well with Sheila, nor will she step aside without a fight. Sheila goes to return Eric's watch when Sheila arrived, she walks in to find Quinn. Words are exchanged, just before one of the best cat fight breaks out. Sheila was surprised by Quinn's final blow to her head. That was when Eric shows up to find Sheila laying on the floor, with a gash in her head, and unconscious. Sheila fans #team sheila, know that Quinn needs to watch her back, Sheila is coming for you!
This epic cat fight between Quinn and Sheila has sparked a lot of conversation on social media from "The Bold and The Beautiful" fans, either you are Team Quinn or Team Sheila. Now Kimberlin Brown took to youtube to thank her fans at #Team Sheila. "Man, I'm sorry I let you down, but she got me from behind. That wasn't fair… right?" stated Kimberlin. She continues to let us know there will be more to come, " and I might just come out on top next time." What do you think about Sheila's return? Are you looking forward to more battles between Quinn and Sheila? Who do you think should come out on top? How can you not love to hate her?
Leave us a comment sharing your thoughts. You can catch "The Bold and The Beautiful" weekdays on CBS. Be sure to check back often at Celebrating the Soaps, your "B&B" source for news, updates, spoilers and so much more!