The Bold And The Beautiful Spoilers: Li Strikes If Finn Does Not – Sheila Will Not Go Away On Her Own?
The Bold and the Beautiful spoilers document that Li Finnegan (Naomi Matsuda) became very passionate when talking with the man she considers to be her son. As John Finn Finnegan (Tanner Novlan) said, Li is his mother in every sense of the word.
Finn's statement aside, Li is very disappointed that he offered encouragement to Sheila Carter (Kimberlin Brown). Matsuda's character feels Finn opened the door to Sheila by making her believe he loved her.
Plus, the kicker, allowing Sheila to hear him call her mom contradicts what Finn appears to be telling himself. The connection with his birth mother is what has upset Li.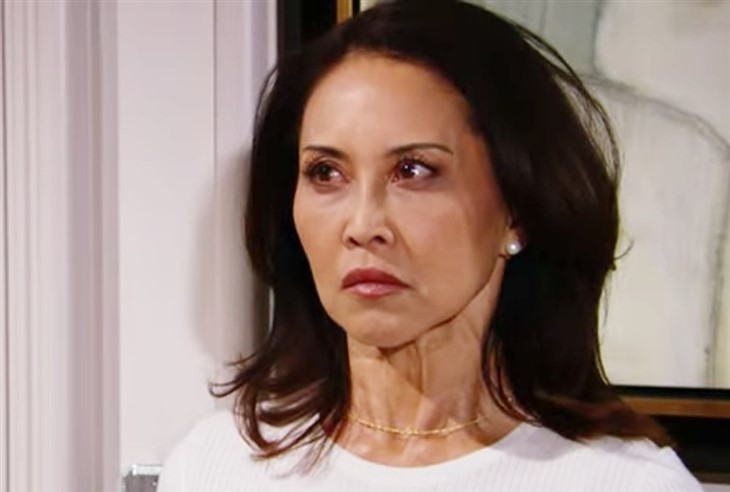 The Bold And The Beautiful Spoilers – Li Finnegan Cites Life-Saving Actions As Proof
Li appears to have never expected Finn to feel a bond with Sheila. His adoptive mother thought that their relationship was impenetrable. It was not.
So, Li has a plan. She wants Finn to find a way to let his wife know that Sheila will never pose a threat to his family again.
The above more than implied Li wanted Finn to remove Sheila from the land of the living. She specifically cited Finn having the ability to let Sheila die when she had her heart attack but saving her life.
B&B Spoilers – Is It Already Too Late For John Finn Finnegan?
Finn thinks he got his message across to Sheila. But Li's instincts, specifically her maternal feelings, are allowing her to know that Sheila will not back off.
Steffy Forrester Finnegan (Jacqueline MacInnes Wood) made an impulsive decision when leaving the cliff house and moving her and the children in with her grandfather. Finn was overjoyed when they recently returned home.
However, Sheila's intrusion into the Finnegan's home caused Steffy to recalculate. Crossing the threshold of the cliff house allowed Steffy to know that she, Kelly Spencer (Sophia Paras Mckinlay), and Hayes Forrester Finnegan (Alexander and Chase Banks) were endangered.
READ THIS: Find out what happens next on The Bold and The Beautiful.
The Bold And The Beautiful Spoilers – Can Sheila Carter Be Stopped?
Of course, Finn remains vulnerable to Sheila which is why Li wants him to act immediately. Li feels as soon as Finn does, Steffy will be able to return home with the children.
Li may eventually need to take matters into her own hands if Finn can not or fails. Whether either person could stop Sheila remains to be seen because, as fans of daytime know, Sheila has proven to be invincible across the decades on B&B.
This site is a leading source for everything linked to The Bold and the Beautiful. Check back regularly for B&B spoilers and news!
For more about what's happening on your favorite soaps and more ways to connect with us, join the conversation on our Facebook Page, check out our Twitter feed, look for an update on our Instagram, follow us on Threads , Always stay up-to-date with us on Google News, or drop us an e-mail HERE! See you there!