The Bold and the Beautiful Spoilers: Liam Will Not Tolerate Disloyalty – Hope Subconsciously Paying Husband Back?
The Bold and the Beautiful spoilers document that Liam Spencer (Scott Clifton) received a tip for a woman his wife long despised. Hope Spencer (Annika Noelle) reached a truce with Steffy Forrester Finnegan (Jacqueline MacInnes Wood). But that agreement came after Hope secured Liam as her husband.
Devoted fans know Liam vacillated between Hope and Steffy for years. Then, in less than a year, he had children with each lady, as his brother, Wyatt Spencer (Darin Brooks), once pointed out in a memorable comic relief scene.
The Bold And The Beautiful Spoilers – Liam Spencer Holding Wife To Double Standard?
It is fair to argue that Liam is applying rules to Hope that he never abided by during the years he went back and forth between her and Steffy.
Liam, the philosopher, would likely argue the situations were different. That type of explanation can be placed into the excuse category and could be used to shift the focus from the accused to the questioner, Hope.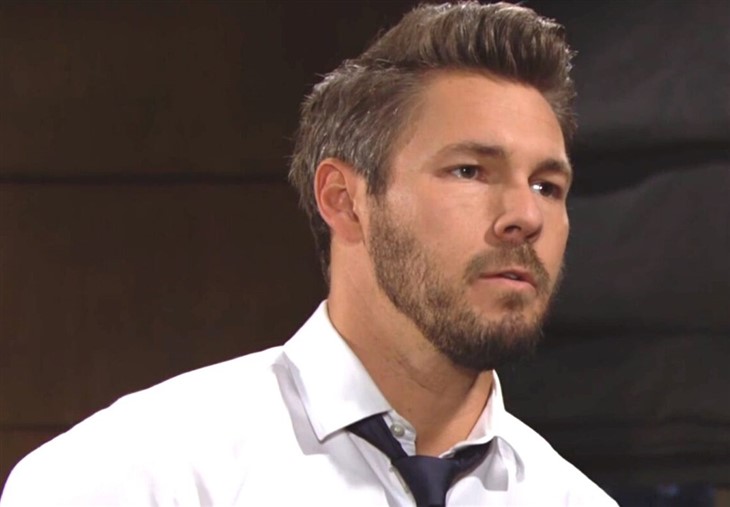 Thomas Forrester (Matthew Atkinson) fits into a special category. While he is not comparable to Steffy, in terms of her romantic ties to Liam, it is fair for Liam to want Hope not to have business ties to him.
B&B Spoilers – Did Steffy Forrester Finnegan Go Too Far?
Steffy was bothered by her brother's efforts to improve himself being undermined. She was an eyewitness to Hope's repeated flirtations with Thomas.
Hope's reaction to Steffy's questioning, on more than one occasion, was not honest. However, Noelle's character is trying to come to grips with what she is feeling. She also responded to Steffy based on their history and in the role of an employee.
Wood's character lost Liam to Hope. While Steffy is completely happy being John Finn Finnegan's (Tanner Novlan) wife. She has referenced the Forresters losing their men to the Logans when speaking with Taylor Hayes (Krista Allen) on multiple occasions.
The Bold And The Beautiful Spoilers – Hope Spencer May Have To Choose
Hope does love Liam and never intended to betray his trust. The feelings that have emerged or she has developed for Thomas were not anticipated.
However, now that Hope does feel differently about Thomas than she has in the past, she can't predict what happens next. Liam will not live with that type of uncertainty for long.
A choice may be coming shortly. Whether Hope can choose between Liam and Thomas may be determined by whether that triangle is real or just a momentary diversion on B&B.
This site is a leading source for everything linked to The Bold and the Beautiful. Check back regularly for B&B spoilers and news!