The Bold And The Beautiful Spoilers Monday, March 20: Ridge's Secret & Alliance, Bill's Justice Quest
The Bold and the Beautiful spoilers reveal that there is no new episodes on Thursday, March 16 or Friday, March 17. So, what is happening on Monday, March 20? While no official spoilers for the next episode have been released yet, a weekly promo suggests that Ridge Forrester (Thorsten Kaye) and Bill Spencer (Don Diamont) team up. Just as we speculated from the beginning, Bill is onto Sheila Carter (Kimberlin Brown) and has proof to take her down for good.
The Bold And The Beautiful Spoilers – Bill Spencer's Hints
B&B spoilers for Monday, March 20 reveal that no official spoilers have been released yet. However, the CBS soap did release a sizzling prom clip for next week. Bill's behavior hasn't made sense since his storyline with Sheila began. At that time, we speculated that Bill could be playing Sheila and everyone else for the ultimate takedown storyline.
The promo suggests that is exactly what is going on with Bill and Sheila. It begins with echoes of voices telling Bill about Sheila. One of the voices sounds like Liam Spencer (Scott Clifton) while another is clearly Steffy Forrester Finnegan (Jacqueline MacInnes Wood). The voices repeat that Sheila is evil.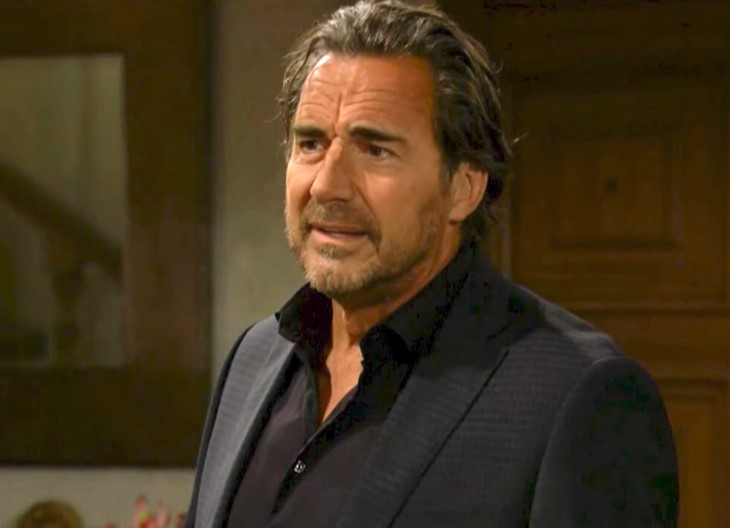 Throughout this storyline, Bill has dropped hints that he is just playing Sheila. One was when Bill shed tears during Katie Logan's (Heaher Tom) passionate plea. Plus, Bill was robotic and not really saying anything in the beginning of this storyline. Bill also dropped a hint to Liam and Wyatt Spencer (Darin Brooks) that was is unspoken is so much more important than the words actually said out loud.
B&B Spoilers – Ridge Forrester's Secret
Meanwhile, Ridge has returned to the CBS soap. Fans haven't seen Ridge in a while. After Ridge found out about Thomas Forrester (Matthew Atkinson) scheming to break up his marriage to Brooke Logan (Katherine Kelly Lang), he went "soul-searching."
Now, Ridge has been getting updates about Sheila from Taylor Hayes (Krista Allen). Ridge has probably also spoken to Steffy. In the promo clip, Ridge is in a security room with Bill and a home monitoring tech wizard. It seems Ridge has been very busy, but not soul-searching. Ridge wants to take Sheila down for good and has teamed up with his enemy and rival, Bill Spencer.
The Bold And The Beautiful Spoilers – Monitoring Sheila Carter
The Bold and the Beautiful spoilers for Monday, March 20 reveal that fans could see scenes of Bill and Ridge. In the promo clip, Ridge and Bill are looking at computer monitors of the entire Spencer mansion. With a tech guy watching with Ridge and Bill, Sheila is overheard talking to Deacon Sharpe (Sean Kanan) on the phone. Sheila talks to Deacon about whether Bill suspects the truth or not. What Sheila doesn't know is that she is being monitored and listened to.
B&B Spoilers – Justice Quest
Bill and Ridge are an unlikely duo. However, there is a bigger threat than each other. Bill and Ridge know that Sheila has to be eliminated and for good. However, what do Bill and Ridge have in mind for Sheila? Will they record Sheila confessing to new crimes? Will it be used to blackmail Sheila into going away forever? Or is there something more to this story that will shock fans?
Be sure to catch up on everything happening with B&B right now. Come back often for The Bold and the Beautiful spoilers, news, and updates.