The Bold and the Beautiful Spoilers Monday, September 4: Quinn Celebrates – Thomas confronts Bill – Liam Chastises Bill – Sheila schemes with Charlie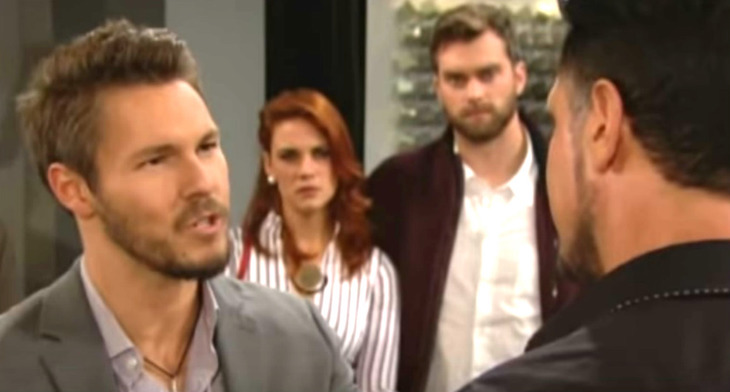 "The Bold and the Beautiful" (BB) spoilers for Monday, September 4th tease that we will have a day filled with lots of drama and plenty of scheming so you will not want to miss out on all the action!
Over at Forrester Creations, Quinn Forrester (Rena Sofer) will be having a conversation about Sheila Carter (Kimberlin Brown). She is happy that Sheila is out of her life and says that she would rather dodge bullets any day of the week over seeing Sheila's face again. Quinn will show her appreciation to Ridge Forrester (Thorsten Kaye) for standing up for her and helping her and Eric Forrester (John McCook) get rid of Sheila, but as we all know there's no getting rid of Sheila. She will be back for more and what she does next will really take you by surprise.
Related: Caroline Questions Uncle Bill – Sally Admits Weakness To Thomas – Liam Struggles With Himself
Sheila Carter tells Charlie Webber (Dick Christie) that Eric Forrester has been through enough in this stage of his life and deserves so much better than Quinn. She has really lost her mind if she thinks she is better than Quinn! Sheila will come up with a plan to get Eric back in her life and will demand that Charlie helps her. She will use Ridge and Quinn as pawns to get what she wants, but do you think it will end up backfiring on her?
Affiliate links included below. Thanks for your support!
Then over at Spencer Publications, Liam Spencer (Scott Clifton) is still furious with his dad Bill Spencer (Don Diamont). He can not get over what Bill has done and he will give him a piece of his mind. He tells Bill that he don't just love money, he worships it! Do you agree with Liam? Sally Spectra (Courtney Hope) and Thomas Forrester (Pierson Fode) are there as well, so hopefully Liam will expose Bill for the scum that he is! Bill has really sunk to an ultimate low this time and there is no coming back from it. He needs to pay! What do you B&B fans think about the matter? Do you think it's time that Bill is held accountable for what he has done? Make sure to stay tuned to CBS's "The Bold and the Beautiful" to see how this all plays out.