The Bold and The Beautiful Spoilers Thursday, August 24: Fire Breaks Out At Spectra, Liam Saves The Day – Sally Confident – Bill Frustrated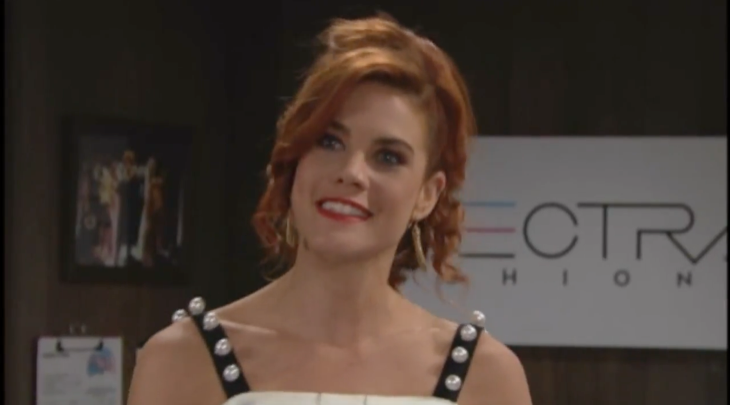 "The Bold and The Beautiful" spoilers for Thursday, August 24th, tease that Forrester Creations might just have a competitor in Spectra Fashions without the help of a Forrester, after all. Steffy Forrester Spencer (Jacqueline MacInnes Wood) just might have to eat a little crow as news gets around that Sally Spectra (Courtney Hope) designs for the Couture review were good. We see Steffy discussing with Ivy Forrester (Ashleigh Brewer) and Brooke Logan Spencer (Katherine Kelly Lang) saying that "I'm not going to slam Sally for wanting to have a successful business, and if she can do it on her own without resorting to criminal behavior, well… then I would be impressed." According to B&B sources hint that with the conversation focused on Sally, it is only natural that Ivy and Brooke would inquire about Steffy brother Thomas (Pierson Fode') and him being in New York.
"The Bold and The Beautiful" spoilers revealed that during the Spectra Couture preview show, that Spencer Publications Jarrett Maxwell (Andrew Collins) and Liam Spencer (Scott Clifton) were there to cover the event. They were pleasantly surprised and impressed by Sally's designs. However, that was not the only surprise they received, as a small electrical fire sparked from an electrical outlet. Liam's quick thinking saved the day when he responded quickly with a fire extinguisher. Back at Spencer Publications, Jarrett and Liam fill Bill Spencer (Don Diamont) in on the show, and what happened afterward. In "The Bold and The Beautiful" promo for Thursday, Bill is seen saying "Once again, Spectra Fashions avoids disaster." Could this be the bogus headline BIll wants for the article, or could Bill be surprised that Sally just might pull it off? No doubt either way Bill always has a plan B and he is not giving up that easily.
"The Bold and The Beautiful" spoilers tease us showing Liam filling Steffy in on how the Spectra Fashion Couture preview went. Telling Steffy that "It is one collection, she is either going to save her company or sink it." However, Sally is pumped, telling her staff that "Spectra Fashions is here to stay!" It should be a drama filled episode. How do you think Bill and Steffy are going to take the news that Sally could actually pull this off? What do you think Bill will try next? Leave us a comment and share your thoughts.
Catch "The Bold and The Beautiful" weekdays on CBS. Be sure to check back here at Celebrating the Soaps, your "B&B" source for news, updates, spoilers and so much more!
SaveSave
SaveSave
SaveSaveSaveSave