The Bold and the Beautiful Spoilers Thursday, November 29: Hope's Fears Grow Over Unhinged Shooter Taylor – Brooke and Taylor Face Off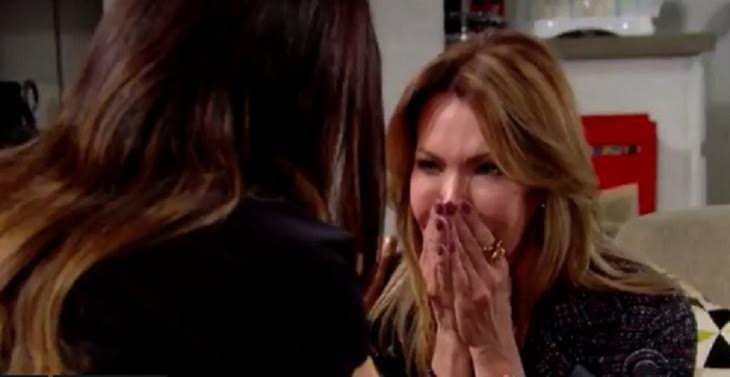 "The Bold and the Beautiful" spoilers for Thursday, November 29, tease that Hope (Annika Noelle) will struggle to wrap her head around Liam's (Scott Clifton) new revelation. He just dropped the Bill (Don Diamont) shooter bomb, so Hope will have a lot to process. Liam and Hope will certainly have plenty to discuss.
Hope will wonder how Taylor (Hunter Tylo) could've become unhinged enough to actually attempt Bill's murder. That's over the top – even for Taylor! Liam will insist that it's true and explain that Bill's promised to keep quiet. He'll suggest that he wanted to fill Hope in and let her know Taylor's threat was very real. They can't be too careful, especially since Hope's pregnant.
Hope will definitely be worried about how far Taylor could go. If Taylor was willing to shoot Bill, which B&B character might be next? Even if Taylor manages to avoid firearms, she could still cause some serious damage. Taylor's attacks seem to be intensifying, so danger could be right around the corner. It's probably just a matter of who will get caught up in the drama and when.
Stunned that Taylor confronted him, Bill lets Steffy know that her mother is testing his patience. WATCH FULL EPISODE: https://t.co/nfOlb8pLhB #BoldandBeautiful pic.twitter.com/NPR5GOqhyy

— Bold & The Beautiful (@BandB_CBS) November 28, 2018
For now, "The Bold and the Beautiful" spoilers say Taylor will spar with Brooke (Katherine Kelly Lang). These longtime foes will hold nothing back in Thursday's fierce showdown. Taylor recently ripped into Hope for stealing the life meant for Steffy (Jacqueline MacInnes Wood). Brooke will face criticism for supporting Hope's mission and bullying Steffy in the process.
Of course, Brooke won't have the same view as Taylor. She'll back Hope up and argue that her daughter was perfectly justified in helping Liam move on. As for Steffy, Brooke may think she's gone easy on her under the circumstances. She might note that Steffy's the one who got extra funding from Ridge (Thorsten Kaye). Steffy's line is thriving while Hope for the Future has faded to the background.
Taylor will stand her ground and let her anger erupt. Brooke isn't usually the type to get rattled, but Taylor just might make it happen! Her out-of-control behavior will continue to make waves in Los Angeles. We'll give you updates as other "Bold and the Beautiful" news and rumors emerge. Stick with B&B and don't forget to check Celebrating the Soaps often for the latest "Bold and the Beautiful" spoilers, rumors, updates and news.
Want up-to-the-minute soaps news, spoilers, and gossip on your social feeds? Just hit 'Like' on our Facebook page and 'Follow' on our Twitter account.