The Bold and the Beautiful Spoilers Tuesday, December 11: Hope and Liam's Taylor Debate Escalates – Zoe Battles Serious Reese Concerns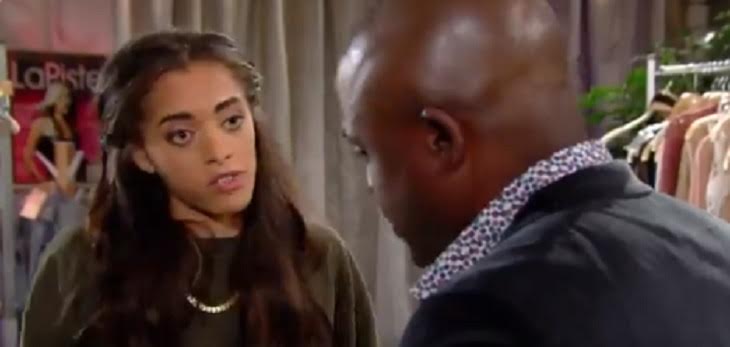 "The Bold and the Beautiful" spoilers for Tuesday, December 11, tease that Zoe (Kiara Barnes) will battle concerns about her father. She was uneasy about Reese's (Wayne Brady) arrival in Los Angeles anyway, but she'll be even more worried thanks to the Taylor (Hunter Tylo) situation. Zoe will feel like her dad's falling back into old habits. She'll definitely feel like history's going to repeat itself.
Zoe will decide to share her fears with Xander (Adain Bradley), who knows how Reese operates and will be happy to lend an ear. "The Bold and the Beautiful" spoilers say Zoe will bring up Reese's interest in Taylor. She'll be afraid that Reese will just find another woman like he always does, which could set vulnerable Taylor up for heartbreak.
Xander may see Zoe's point, but he might think there's a chance Reese has changed, too. He'll do whatever he can to ease Zoe's mind, but she'll remain fearful about the road ahead. Zoe won't want to see Reese make a mess of things with the Forresters and anyone connected to them!
Taylor leans on Ridge and Steffy in an emotional moment and reveals her deepest fears. WATCH FULL EPISODE: https://t.co/GjtnlsFRHu #BoldandBeautiful pic.twitter.com/TRMhhkhBnL

— Bold & The Beautiful (@BandB_CBS) December 10, 2018
Other B&B spoilers say Liam (Scott Clifton) and Hope's (Annika Noelle) debate will escalate. Liam's trying to shift his perspective on Taylor and back Steffy up a bit, but Hope's stuck on the danger angle. She can't get past the threat to Kelly as well as her unborn child.
Since Liam must still have doubts deep down, Hope will push him to stand by her on this. She'll think it's too important to be taken lightly. Liam and Hope will argue, but there's just no way for them to know what's ahead. Until Taylor's behavior takes another dangerous turn, they can't predict what she's actually capable of.
Does Taylor really pose a risk to Kelly and the "Lope" baby? Is peril just around the corner? "The Bold and the Beautiful" spoilers hint that things could spiral out of control at some point, so stay tuned over the next few weeks. We'll give you updates as other B&B news and rumors emerge. Stick with the CBS soap and don't forget to check CTS often for the latest "Bold and the Beautiful" spoilers, rumors, updates and news.
Want up-to-the-minute soaps news, spoilers, and gossip on your social feeds? Just hit 'Like' on our Facebook page and 'Follow' on our Twitter account.