The Bold and the Beautiful Spoilers Tuesday, March 12: Reese Desperate to Stop Flo and Zoe's Confession – Wyatt and Sally Prep for Future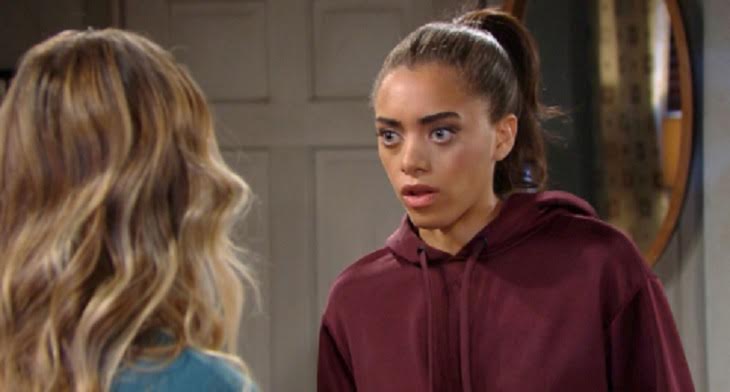 "The Bold and the Beautiful" spoilers for Tuesday, March 12, tease that Dr. Reese Buckingham (Wayne Brady) will try to handle a serious crisis. In fact, this might be his worst one yet. Florence "Flo" Fulton (Katrina Bowden) has threatened to confess before, but she's never followed through. However, Flo's really riled up this time. She just insisted there's nothing Reese can do to stop her!
Even Zoe Buckingham (Kiara Barnes) feels like coming clean may be their best option, but Reese doesn't agree. He'll attempt to settle Flo and Zoe down in Tuesday's B&B episode. Reese will contend that no good can come from a confession. He won't want legal consequences for their little cover-up club, but he'll insist this is bigger than just the three of them.
Reese may point out that Steffy Forrester (Jacqueline MacInnes Wood) has bonded with this baby. She's "Phoebe Forrester" (Isaballe de Armas and Redford Prindville) now, and she has a mom who loves her. Reese might suggest that "Phoebe" has bonded with Steffy as well. He could argue that ripping them apart would be cruel and potentially quite damaging.
Of course, Flo and Zoe will remain concerned about Hope Spencer (Annika Noelle), who's stuck in grief and blames herself for what happened. Reese will have plenty of sympathy for Hope, but not enough to tell the truth. He won't want Zoe and Flo to spill the beans either, but will they listen? Since this storyline is far from over, Reese will convince them to keep their mouths shut for now.
Zoe confronts Flo for going to dinner at Wyatt's and flips when she finds out about their connection. WATCH FULL EPISODE: https://t.co/tfpfqW2N4f #BoldandBeautiful pic.twitter.com/dPq4njpyL3

— Bold & The Beautiful (@BandB_CBS) March 11, 2019
Other "Bold and the Beautiful" spoilers say Wyatt will reassure Sally Spectra (Courtney Hope). He already let her know she had nothing to worry about when it comes to Flo, but he'll make himself extra clear on Tuesday. Wyatt will promise Sally that he's all in on their future together – both personally and professionally. He'll insist that their plans for Sally's fashion house are going to work out.
"The Bold and the Beautiful" spoilers say Sally will put her trust in Wyatt, but will she regret it? Will he be tempted by Flo down the road and break Sally's heart? We'll give you updates as other B&B news and rumors emerge. Stay tuned to the CBS soap and don't forget to check CTS often for the latest "Bold and the Beautiful" spoilers, rumors, update and news.
Want up-to-the-minute soaps news, spoilers, and gossip on your social feeds? Just hit 'Like' on our Facebook page and 'Follow' on our Twitter account.