The Bold and the Beautiful Spoilers Tuesday, November 6: Brooke Revs Up Bill's Suspicions – Donna Fights Back, Quinn Feud Gets Heated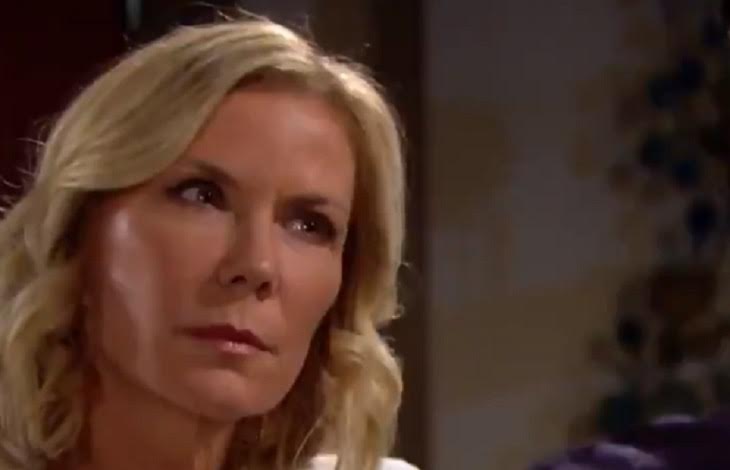 "The Bold and the Beautiful" spoilers for Tuesday, November 6, tease that Bill (Don Diamont) will push for answers. He knows Ridge (Thorsten Kaye) and Judge McMullen (Joe Lando) are connected, so he's eager to get the full story. Since Brooke (Katherine Kelly Lang) is married to Ridge, what better person to turn to?
Bill just started grilling his ex, but he'll kick his interrogation up a notch soon enough. He'll exploit Brooke's weakness for him and insist that it's the right thing to do. However, Brooke will carefully dance around the truth on Tuesday. She won't admit Ridge is guilty of anything, but she won't exactly deny it either. Brooke will just hope she can buy some time and hopefully find another solution.
Of course, Bill knows Brooke awfully well. He'll probably be able to tell she's hiding something, so he'll realize he's on the right track. As for Brooke, she be just as certain that Bill won't let this go. It won't be long until Brooke offers Ridge a warning. She'll feel like her sneaky hubby's secret is on the verge of exposure!
Eric and Donna reminisce about their past over a bottle of honey bear. WATCH FULL EPISODE: https://t.co/Fh9lbJfCse #BoldandBeautiful pic.twitter.com/9OebZXC9hT

— Bold & The Beautiful (@BandB_CBS) November 5, 2018
Other "Bold and the Beautiful" spoilers say Donna (Jennifer Gareis) will fight back. Quinn (Rena Sofer) just confronted Eric's (John McCook) ex and made her position perfectly clear. Donna needs to stay away from Eric or risk facing Quinn's vicious wrath.
Quinn will urge Donna to take the advice, but Donna will simply hurl her own threats. She'll think Quinn's scared of a little competition – and she should be. There's already strife in Eric and Quinn's marriage, so Donna's return couldn't have happened at a worse time.
Donna won't back off anytime soon, which means Quinn has more drama in her future. B&B fans can expect this feud to spiral out of control in the coming weeks. "The Bold and the Beautiful" spoilers say plenty of shockers and shakeups are ahead, so stay tuned.
Are you rooting for Quinn to stand her ground and protect her marriage? Should Donna make her move and win back Eric instead? We'll give you updates as other B&B news and rumors emerge. Stick with the CBS soap and don't forget to check Celebrating the Soaps often for the latest "Bold and the Beautiful" spoilers, rumors, updates, and news.
Want up-to-the-minute soaps news, spoilers, and gossip on your social feeds? Just hit 'Like' on our Facebook page and 'Follow' on our Twitter account.