Days of Our Lives Actress Jen Lilley Reaches Out For Help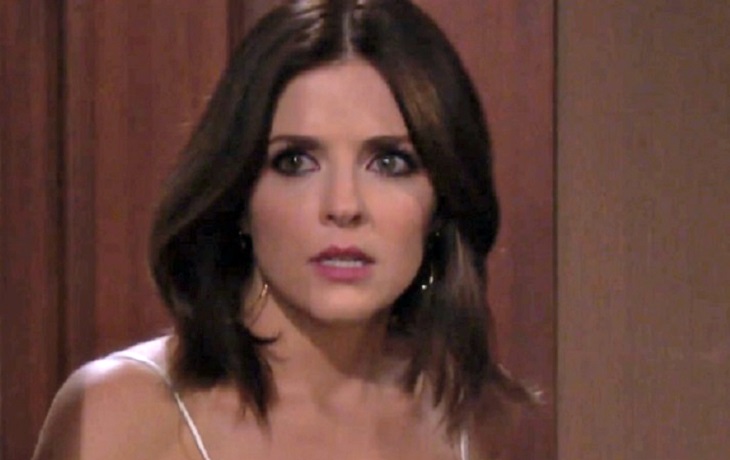 Days of Our Lives star Jen Lilley is reaching out for help. The beautiful brunette, who is best known for her role as Theresa Donovan, is asking fans to send their prayers, as she's dealing with one of the most challenging weeks of her life.
Jen took to her social media account to explain that her 2-year-old has just caught a bad disease, her new baby is teething and her mother is in the hospital. In other words, Jen needs all of the support and strength that she can get right now.
LOVE DAYS OF OUR LIVES? SIGN UP FOR OUR DOOL NEWSLETTER!
She wrote in a post, "So my two-year-old has a hand, foot, mouth this week, (so gross and so painful for him) As a result, we're all quarantined this week. The new baby is teething, and my mom is in ICU. Send prayers, and know that in my house, we're still laughing and singing and praising the Lord because He is faithful and He will see us through."
It didn't take Jen's fans very long to respond, as many have commented with, "Don't worry Jen, it gets better. Sending prayers your way. Remember that this too shall pass," along with, "Oh no Jen praying for all of you guys!! Hope you all get better soon and love you xoxo."
Another fan wrote, "Glad you are back on Days! You & Brady act great together & cute couple too & you are beautiful! Sorry to hear about your baby and your mom. I hope they feel better soon!"
Days of Our Lives airs weekdays on the NBC network. In the meantime, drop us a line with your thoughts in our comments section below. Also, don't forget to check back with Soap Opera Spy for all the latest news, updates and spoilers on Days of Our Lives and all of your favorite daytime television shows right here!
As always, more detailed spoilers and a full collection of pictures for the week in question will appear here on Celebrating the Soaps, when there could be more clues and hints over exactly what's going on.
Days of Our Lives airs weekdays on the NBC network.
---
Read more news, spoilers, and gossip on our Days Of Our Lives homepage
Want up-to-the-minute soaps news, spoilers, and gossip on your social feeds? Just hit 'Like' on ourFacebook page and 'Follow' on our Twitter