Days of Our Lives News: Gilles Marini Leaving DOOL – Promises Return Will Happen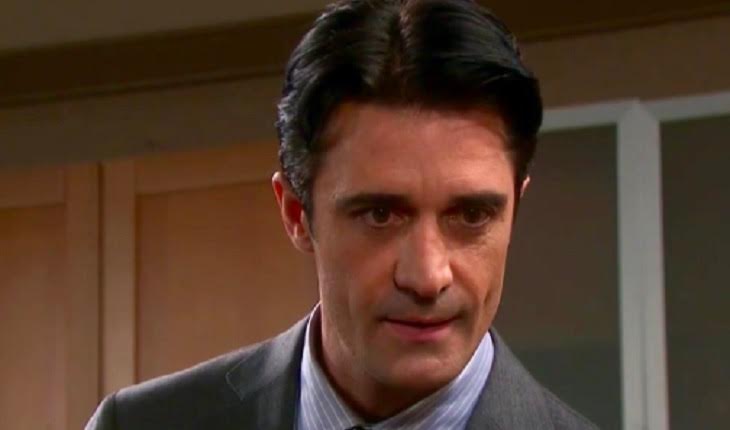 Days of Our Lives (DOOL) spoilers reveal newcomer, Gilles Marini, who portrays the sinister, blackmailing attorney Ted Laurent will be taking a temporary leave from the NBC soap opera, but reassures fans that he will return.
How do you feel about the character, Ted Laurent? DOOL sources tease Marini's character, Ted is in a heap of trouble as his blackmailing scheme was just revealed to lover, Kate Roberts DiMera (Lauren Koslow). Fans of the NBC daytime drama know there isn't anything Kate won't do to protect her children and grandchildren, so when she issues Ted an ultimatum, which he declines, it's no wonder Kate pulls a gun on the sleazy lawyer.
Ted may not have been in Salem for long, but he sure made plenty of enemies; some that he may not have even faced yet!Days of Our Lives spoilers reveal Alison Sweeney will be back on Thursday, August 23, 2018 as Sami Brady DiMera and since she is the ultimate bad girl of Salem, one can't help but wonder how she will react to Ted blackmailing her son, Will Horton (Chandler Massey) and his ex, Sonny Kiriakis (Freddie Smith).
LOVE DAYS OF OUR LIVES? SIGN UP FOR OUR DOOL NEWSLETTER!
Paul Narita (Christopher Sean) is now on the case, promising to dig up dirt on the slimeball lawyer, so what will be Ted's fate since he clearly isn't going to be killed off?For those of you who don't know much about actor Gillies Laurent, this isn't his first time performing in a daytime drama. He played three different characters – Dr. Gohde, Jean Claude and a French waiter on CBS' The Bold and the Beautiful (B&B) between 2005 and 2017.
He also appeared in the now canceled NBC soap opera Passions. Primetime fans may recognize him as Dante from Sex in the City (2008), Luc Laurent in Brothers & Sisters (2009-2011) or his role in the primetime soap opera Devious Maids where he portrayed Sebastien Dussault (2014-2015).
Days of Our Lives spoilers do not have his exact return date available, so come back often as Celebrating The Soaps will update fans the minute news becomes available.Be sure to tune into NBC's Days of Our Lives (DOOL) to catch up on all the exciting storylines happening right now. Check Celebrating the Soaps often for updates, news and spoilers!
Read more Celebrating the Soaps news, spoilers, and gossip on our Days Of Our Lives homepage