Days Of Our Lives Spoilers: Alex Gets A Second Chance With Stephanie When Kayla Returns
Days of Our Lives (DOOL) spoilers suggest that Marlena Evans (Deidre Hall), Kate Roberts (Lauren Koslow), and Kayla Johnson (Mary Beth Evans) will soon be reunited with family and friends in Salem. This is great news for everyone involved; however, how will this affect Stephanie Johnson (Abigail Klein) and her relationship with Chad DiMera (Billy Flynn)? After all, she turned to DiMera after dumping Alex Kiriakis (Robert Scott Wilson) when she realized he had turned off her phone, thus missing her opportunity to say goodbye to her mom before she passed.
Days Of Our Lives Spoilers – Will Stephanie Johnson Feel Conflicted?
Days spoilers hint that Steve Johnson (Stephen Nichols) will tell Stephanie that her mom is in fact alive, during the week of March 27th. There could be a plot twist in this love triangle storyline, especially if there is trouble in paradise between Ms. Johnson and Mr. DiMera from now until when she learns the news. After all, added teasers imply that Chad will struggle with moving on from Abigail DiMera's (Marci Miller) passing this Thursday, March 23rd. In fact, he'll turn to Abe Carver (James Reynolds) for advice. If DiMera's relationship with Stephanie still doesn't feel right, then Ms. Johnson could find herself a single pringle soon. Would she turn to Alex for comfort?
With that said, Alex has seemingly (somewhat) moved on with Gwen Rizczech (Emily O'Brien). Will he want to give Stephanie another chance?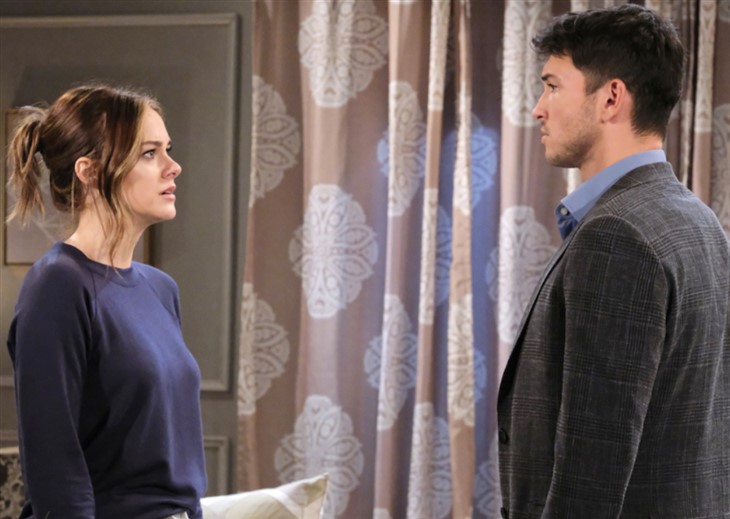 Days Spoilers – Is There A Chance For A Reunion Between Stephanie & Alex?
Things in Salem have a way of moving very fast or painfully slow. Alex and Stephanie made an interesting pair, to say the least. Kayla being alive will certainly change Stephanie's perspective. It won't undo the lie Alex told, but he did own up and apologize for what he did, right after it all happened. With her mom being alive, there is no need for resentment. The two could pick up where they left off (in theory), but at the same time, so much has happened during their time apart. A romantic reunion is plausible but won't be easy.
Are you #TeamChad or #TeamAlex? Could Stephanie and Mr. Kiriakis reunite when Kayla returns to Salem alive and well? Share your comments, below! Don't forget to tune into your favorite Peacock soap daily, to see how things will unfold. Plus, visit this site often, for all the recent DOOL spoilers and news.