Days of Our Lives Spoilers: Brady Explodes Over Eric's Love for Nicole, Eric Leaves Town – Nicole Admits Her Feelings, Ponders Next Move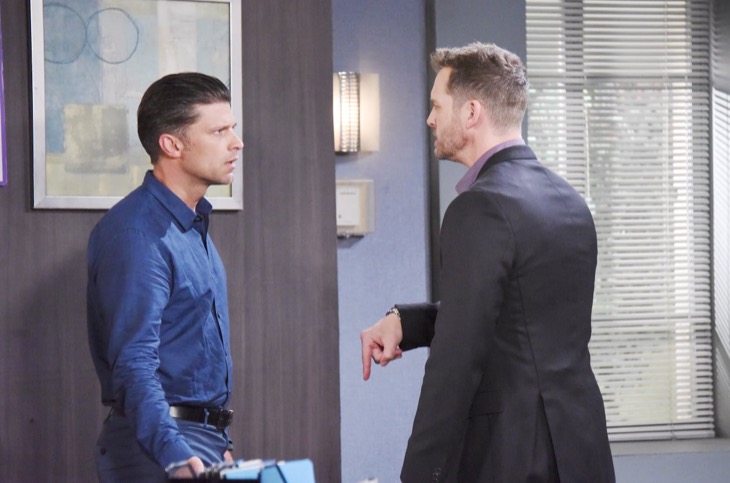 "Days of Our Lives" spoilers for the week of September 18-22 tease that Brady (Eric Martsolf) will face some news that leaves him fuming. During a chat with Chloe (Nadia Bjorlin), she'll let something slip about Eric's (Greg Vaughan) feelings for Nicole (Arianne Zucker). Brady will hit the roof when his suspicions are confirmed. He'll decide he needs to give Eric a piece of his mind.
Elsewhere, Nicole and Eric will share an electrifying moment. She'll find herself drawn to her former flame as things heat up. Nicole and Eric will move in close for a kiss, but they'll ultimately hold back. Neither one of them will want to do anything that would hurt Brady.
Unfortunately, Brady will already be in severe pain. He's been battling jealousy and Chloe's revelation will add to his concerns. "Days of Our Lives" spoilers state that Brady will confront Eric in his office. He'll fill Eric in on what he's learned and urge him to admit his love for Nicole.
The former priest is a big believer in honesty, so he'll come clean about how he feels. Eric will promise Brady that nothing has changed. He'll assure his brother that he's not trying to win Nicole back.
Brady won't be convinced that Eric can keep his hands off her. He'll think putting distance between these exes is the only option. "Days" spoilers say Brady will demand Nicole's firing. He'll believe this is absolutely necessary to prevent Eric and Nicole's betrayals.
Eric will understand Brady's frustration, but he'll argue that this isn't the right solution. DOOL fans know that Nicole truly wants to make a difference. She loves working at the Horton Center and Eric isn't going to take that away from her.
"Days of Our Lives" spoilers say Eric will reach a shocking conclusion after this fight. He'll feel like there's no way any of them will have peace if he sticks around. After writing a tender letter to Nicole, Eric will head out of Salem. He'll move somewhere else so Brady and Nicole can continue their romance.
Meanwhile, Nicole will finally come to grips with her feelings. She'll realize she still loves Eric, but will she do anything about it? Regardless, Eric won't be able to hide out for long. Marlena (Deidre Hall) will find him eventually and Nicole probably won't be far behind.
It sounds like some great "Days" episodes are coming up. We'll give you updates as other DOOL details and rumors emerge. Stay tuned to the NBC soap and don't forget to check Soap Opera Spy often for the latest "Days of Our Lives" spoilers, rumors, updates and news.