Days Of Our Lives Spoilers: Claire Plays Innocent As Haley Is Arrested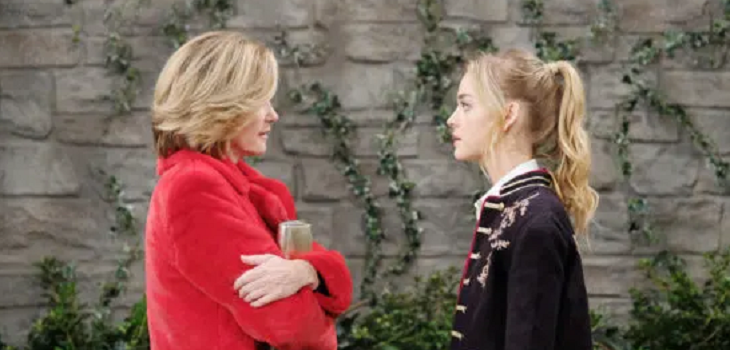 Days of Our Lives spoilers tease that Claire Brady (Olivia Rose Keegan) will of course, play innocent when Haley Chen (Thia Megia) is arrested! She'll come up with some kind of cover story if Eli Grant (Lamon Archey) and Lani Price (Sal Stowers) arrest her when Tripp Dalton (Lucas Adams) or Ciara Brady (Victoria Konefal) are there.
But other Days of Our Lives spoilers tease that Jack Deveraux (Matthew Ashford) will trick or distract Tripp to get to Haley, so perhaps he'll be there. But of course when the big news hits, and more than likely broadcast on TV, Tripp and Ciara may not find out until Haley's gone, and not in the best way possible. It is possible Tripp or all the roommates could be there when the bust happens – only time will tell.
Days Of Our Lives – Claire's Behavior Stems From Jealousy Over Tripp
Because of Claire's past bad behavior stemming from her insane jealousy over Tripp, he and possibly Ciara as well will probably suspect her immediately of turning Haley in. Claire of course, will deny she knew anything about it and try to lie her way out of it as usual, just like she lied about Ben Weston's (Robert Scott Wilson) cigarette lighter he found in her jewelry box.
Days of Our Lives Spoilers: Sarah Admits Her Feelings To Eric – Will He Reciprocate? https://t.co/1pehTIRBfP pic.twitter.com/0dxNykCPge

— SOS/CTS/HH (@SoapOperaSpy) March 12, 2019
That could still come back to haunt her if Ciara happens to see it for some reason, and recognizes it as Ben's. Claire seems to be turning more and more downright evil, as well as manipulative.
Days Of Our Lives – Claire Is Gradually Becoming More Like Eve
So it's no wonder she called Eve Donovan (Kassie DePaiva) about Haley staying in the loft. It seems like Claire is becoming more and more like Eve every day. Days of Our Lives viewers can probably see Claire and Eve becoming closer as time goes on!
Haley will undoubtedly be terrified when she is arrested, although she may not be deported right away; the paperwork and government red tape could take some time. There are even down-the-road spoilers that Justin Kiriakis (Wally Kurth) may step in to try to delay her deportation long enough to prevent it.
Stay tuned to Days of Our Lives and keep checking Days of Our lives spoilers frequently to see if Haley escapes deportation, and how she does it, or if back to China she goes!
Read more Celebrating the Soaps news, spoilers, and gossip on our Days Of Our Lives homepage