Days of Our Lives Spoilers Friday, February 1: Marlena Pleads With Diana, Leo Hits On Brady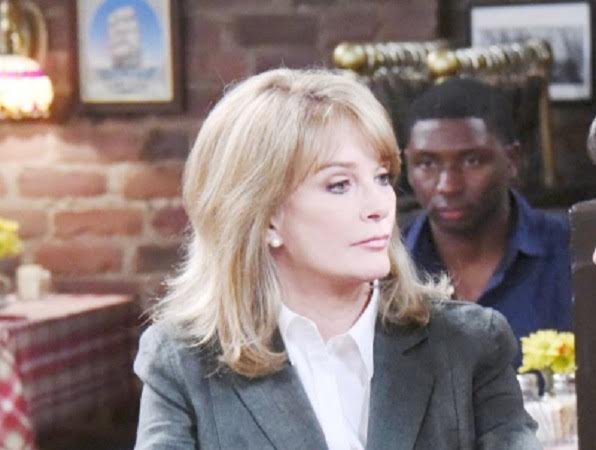 Days of Our Lives (DOOL) spoilers for Friday, February 1, 2019, reveals Marlena (Deidre Hall) runs into Diana (Judith Chapman) and will ask her to stop Leo (Greg Rikaart) from tormenting Sonny (Freddie Smith) and Will (Chandler Massey).
Days of Our Lives – Marlena Pleads With Diana
Is Diana willing to help her or will she let Leo continue his reign of terror? Will Diana want something in return for helping with Leo? Could Diana reveal that Leo is John's son and make things even more complicated?
DOOL Spoilers – Hope Searches For Ciara
Days of Our Lives' Hope (Kristian Alfonso) will search for Ciara (Victoria Konefal) when she turns up missing. Of course, Hope will jump to the conclusion that Ben (Robert Scott Wilson) is behind her disappearance because he has been trying to talk to Ciara since she left town.
Hope wants more than anything to put Ben back in Bayview or in prison and will stop at nothing to do that. Ben wants nothing more than to make things right with Ciara. Will Hope find Ciara before it's too late or will Ben end up saving her himself?
Ben to the rescue? For Ciara's sake, we hope so. #DAYS pic.twitter.com/j3cOrk8uvW

— Days of our Lives (@nbcdays) January 31, 2019
Days of Our Lives Spoilers – Leo Hits On Brady
Days of Our Lives' Leo isn't accustomed to not getting sex when he wants it, but he hasn't had any since he married Sonny. Sonny wants nothing to do with consummating his and Leo's marriage because he's in love with Will. Leo struck out with Xander (Paul Telfer), so he will move on to his next conquest, or so he thinks.
Brady is now CEO of Titan and knows all about Leo's bribery of Sonny, and now Leo comes onto Brady. Will Brady threaten Leo to get him out of Sonny's life? How will Brady act if he finds out that Leo is his half brother?
DOOL Spoilers – Chloe Receives A Cryptic Threat
Days of Our Lives Chloe (Nadia Bjorlin) will receive a cryptic threat that will have her on edge. Will this threat be enough to make Chloe leave town with the kids? Will Chloe end up disappearing much like what happened to Ciara? Chloe killed a Mexican drug lord to escape his compound when she was being held hostage with Theresa (ex-Jen Lilley) could someone in his family pose a threat to Chloe?
Is the threat a sign from Xander that Nicole (Arianne Zucker) is alive and coming back to get her daughter? How Chloe chooses to deal with this threat could determine whether she stays in Salem or not.
Read more Celebrating the Soaps news, spoilers, and gossip on our Days Of Our Lives homepage