Days of Our Lives Spoilers Friday, February 22: Ben's Shocking Confession, Claire's True Colors Revealed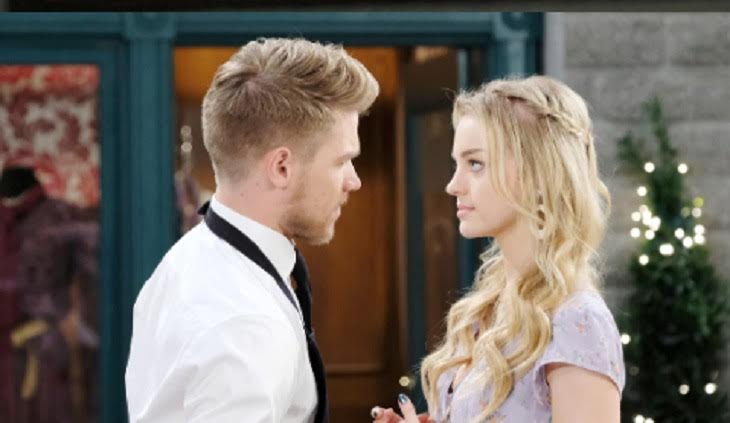 Days of Our Lives (DOOL) spoilers for Friday, February 22, 2019, reveals Rafe (Galen Gering) will talk to Jordan (Chrishell Stause) and get her to open up about her recent Trauma.
Days of Our Lives – Rafe Gets Jordan To Open Up 
Rex (Kyle Lowder) noticed a huge scar on Jordan's head when he talked to her outside the pub. Jordan explained that she has been in a car accident, but is there more to the story? Did this trauma cause Jordan to turn on Ben (Robert Scott Wilson)?
DOOL Spoilers – The Identity of The Person Who Nearly Killed Ciara
Days of Our Lives' fans have been waiting for months to learn who tried to kill Ciara (Victoria Konefal) last fall while Ben left her to pick up his medication. The wait is over, and today we will learn the culprit's identity. Did Jordan set that fire to get Ben put away? Did Claire (Olivia Rose Keegan) do it to get rid of her rival? Did Tripp (Lucas Adams) set the fire as well as plant evidence against Ben?
Spotted: 2/3 of a love triangle. #DAYS pic.twitter.com/9gAZuuOFCt

— Days of our Lives (@nbcdays) February 21, 2019
Days of Our Lives – Ben's Shocking Confession
Days of Our Lives Ciara was the only reason that Ben didn't kill Jordan when she attacked Ben in Ciara's hospital room. Ben wants to be honest with Ciara, and he will admit that he might not have been able to let Jordan go without her help. Does this mean that Ben has the potential of reverting to his serial killer ways?
Will Ben stay with Ciara if he feels she won't be safe with him? Ben was trying to protect Ciara, will he see the difference in being a murderer and defending himself and Ciara?
Days of Our Lives Spoilers – Claire Fights Jealousy 
Days of Our Lives Tripp and Haley (Thia Megia) have become friends and spend time together occasionally. Tripp and Haley both have a medical background, so they have something in common. Haley is, of course, concerned about his arm. Tripp has mentioned Haley to Claire before, and she was upset by the conversation.
Claire will realize that Haley and Ben have been hanging out together and will get jealous. Will Haley become a bigger issue for Claire than Tripp realizes? Tripp may have more on his hands than he bargained for as Claire attempts to fight her feelings of jealousy.
Read more Celebrating the Soaps news, spoilers, and gossip on our Days Of Our Lives homepage