Days Of Our Lives Spoilers: Megan Sets Her Sights On DiMera Enterprises
Days of Our Lives spoilers tease that Megan Hathaway (Miranda Wilson) has been making some pretty bold moves in recent weeks. As viewers know, Megan kidnapped Dr. Marlena Evans (Deidre Hall), Dr. Kayla Johnson (Mary Beth Evans), and Kate Roberts (Lauren Koslow) and let their loved ones believe that all three women are dead. Megan has one goal in mind: she wants Bo Brady (Peter Reckell) back. Megan had Bo cryogenically frozen years ago until she could find a way to resurrect him.
Days Of Our Lives Spoilers – Megan Hathaway Has The Three Legendary Prisms!
Last summer, Megan acquitted all three of the legendary prisms that legend has it can cure all sorts of medical maladies. Bo apparently died of a brain tumor and Megan hopes that with the help of the three prisms, she can bring Bo back. But Bo loves Hope Brady (Kristian Alfonso) and nothing can change that. She will likely succeed in bringing Bo back, but his heart will always belong to Hope. Megan will soon have to face the fact Bo will never be hers.
DOOL Spoilers – Next stop, DiMera Enterprises!
If Megan can't have Bo, look for her to turn her attention her father's company, DiMera Enterprises. Megan used to run Stefano's cartel years ago before her own brush with death. If she can't have Bo, she will make it her priority to run her father's legitimate company. But Megan will have to deal with her siblings, most of whom don't even know that she is alive. Her presence will change everything in regard to the balance of power at DiMera!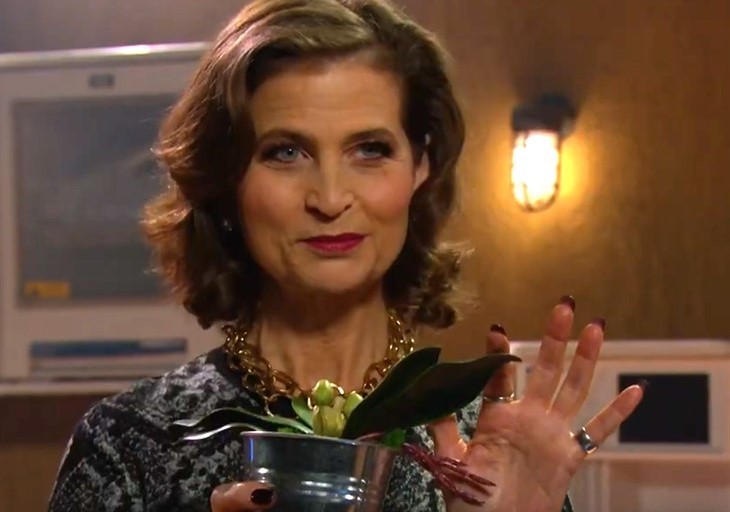 Days Of Our Lives Spoilers – EJ DiMera And Stefan DiMera Will Have To Put Aside Their Differences!
After getting over the shock that Megan is still alive, EJ DiMera (Dan Feuerriegel) and Stefan DiMera (Brandon Barash) will have to put aside their differences if they want to keep Megan from taking over. Kristen DiMera (Stacey Haiduk) is the wild card and she could vote either way. It remains to be seen who will end up on top when all the dust clears but, in the meantime, look for sparks to fly and alliances to shift once Megan makes herself known.
DOOL Spoilers – What Do You Think?
Will Bo and Hope reunite? Will Megan make DiMera her priority? How will her siblings react to her return? Anything can happen in Salem so stay tuned to Days of Our Lives streaming every weekday on Peacock. And don't forget to check back right here regularly for all your Days of Our Lives news, information, and spoilers!