Days of Our Lives Spoilers Thursday, August 3: Eve's Return, Lackluster Proposals, Bonds & Alliances
Days of Our Lives spoilers for Thursday, August 3 reveal that Harris Michaels (Steve Burton) faces Eve Donovan (Kassie de Paiva) at Bayview.
Eric Brady (Greg Vaughan) gives Sloan Petersen (Jessica Serfaty) a lackluster proposal. Meanwhile, Chad DiMera (Billy Flynn) opens up to EJ DiMera (Dan Feuerriegel). Also, Alex Kiriakis (Robert Scott Wilson) tells Stephanie Johnson (Abigail Klein) about his latest date.
Days Of Our Lives Spoilers – Eve Donovan's Return
DOOL spoilers for Thursday, August 3 reveal that Eve makes an appearance. Fans haven't seen the character in a long time.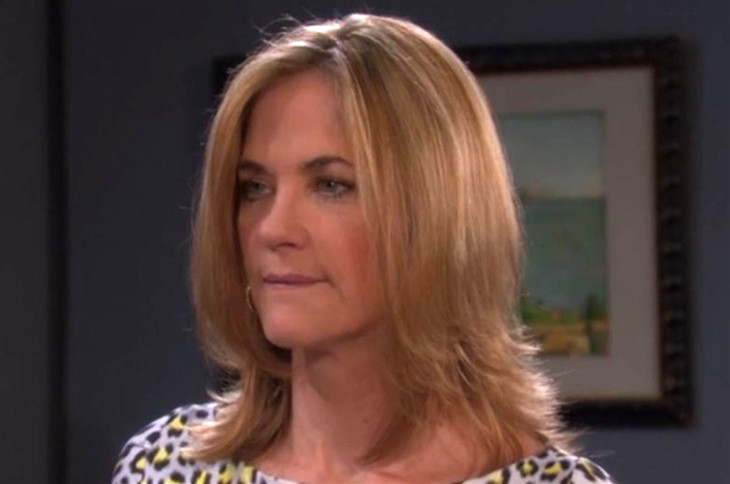 Now, Eve is back but is at Bayview. Fans recently saw Harris beg Marlena Evans (Deidre Hall) to have him committed to the psychiatric hospital. After Harris is committed to Bayview, he runs into Eve.
According to the weekly preview clip, Eve and Harris went to high school together. Harris did some pretty awful things to Eve. So, will Eve be determined to get revenge? If so, just how far will she go?
DOOL Spoilers – Lackluster Proposal
On Thursday, August 3, fans can expect Eric to give Sloan a lackluster proposal. Now, it isn't stated whether this is a marriage proposal or another kind of suggestion.
Based on the fact that Sloan is pregnant, Eric could suggest they tie the knot. However, Eric cares about Sloan but it doesn't seem like something he would do just because his girlfriend is pregnant.
Of course, Marlena and Roman Brady (Josh Taylor) don't trust Sloan. When Marlena told Sami Brady (Alison Sweeney) the baby news on the phone, she was just glad it wasn't Nicole Walker (Arianne Zucker).
What Sami doesn't know is that Eric seems to have fathered two babies… with one of them being Nicole's.
Back to the lackluster proposal, Sloan wants to hold onto Eric. However, Sloan will also want Eric's proposal to be sincere, not just to prove a point to his family.
Days of Our Lives Spoilers – DiMera Family Bonding
Days of Our Lives spoilers for Thursday, August 3 reveal that Chad will open up to EJ. Now, there are times when Chad and EJ get along like brothers.
Other times, Chad and EJ are at war with each other. Now that Chad is no longer at DiMera Enterprises and moved out of the DiMera mansion, perhaps his dynamic with EJ will improve.
DOOL Spoilers – Thursday, August 3
On Thursday, August 3, fans can expect Alex to stop by to see Stephanie once again. Alex will tell Stephanie about his bad blind date with DA Melinda Trask (Tina Huang).
What will Stephanie say to Alex? How will Chad feel when he learns that Alex is trying to get close to Stephanie again? Share your thoughts in the comment section below.
Be sure to catch up on everything happening with DOOL right now. Come back often for Days of Our Lives spoilers, news, and updates.
You Might Also Like
Days Of Our Lives Next 2 Weeks Spoilers
3 Must-See Moments Week Of July 31
Subscribe To Celebrating The Soaps On Google News
Subscribe To Our Celebrating The Soaps Newsletters HERE!
Subscribe to ALL Our Soap Videos
For more about what's happening on your favorite soaps and more ways to connect with us, join the conversation on our Facebook Page, check out our Twitter feed, look for an update on our Instagram, follow us on Threads , Always stay up-to-date with us on Google News, or drop us an e-mail HERE! See you there!