Days of Our Lives Spoilers Thursday, December 6: Lucas Has Bad News, Eli Confronts Lani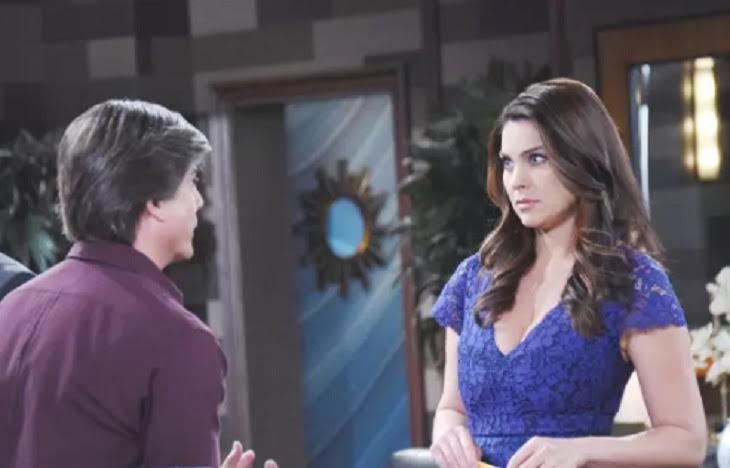 Days of Our Lives (DOOL) spoilers for Thursday, December 6, 2018, reveals Sarah (Linsey Godfrey) has seen Eric (Greg Vaughan) with Holly. Sarah also knows that Nicole (ex-Arianne Zucker) asked Eric to raise her daughter when she realized she wasn't going to get out of the warehouse.
Sarah Appeals to Maggie to Let Eric Raise Holly
Brady (Eric Martsolf) was a witness to this exchange and knows that was what Nicole wanted. Maggie (Suzanne Rogers) wants to raise Holly herself, but Sarah will plead with her to allow Eric to raise her child. Will Sarah be able to convince her mother to let Eric raise Nicole's daughter or will Sarah join forces with him to fight for custody?
Chloe is Thrilled Lucas returns from Europe, But He Drops a Bomb
Days of Our Lives' Lucas (Bryan Dattilo) will return home from Europe. However, his return won't be what Chloe (Nadia Bjorlin) had hoped for because he has doesn't plan to stay in Salem. After Lucas' visit with Allie (formerly Carolyn and Campbell Rose), he has decided he wants to move closer to his daughter.
Lucas will, of course, ask Chloe to move to Europe with him but she will likely decline, and the two will probably break up instead of trying to have a long distance relationship. Chloe may lose Lucas, but that will leave her open for a new relationship, or rekindling an old one.
Drama is our specialty! 👏 #DAYS
📸: @galengering pic.twitter.com/Aqg05gsweO

— Days of our Lives (@nbcdays) December 5, 2018
Days Of Our Lives Spoilers – Eli Confronts Lani About Her Feelings for Him.
After Days of Our Lives' Lani (Sal Stowers) blew up over finding Eli (Lamon Archey) and Sheila (Tione "T-Boz" Watkins), Eli will confront her about her feelings for him. Eli told Lani months ago that he had feelings for her and wanted to pursue a relationship, but she wanted no part of that. Will Lani admit that she was wrong in making that choice and try to have a relationship with Eli or will Sheila have to trick her into admitting her feelings?
Abe Loses Temper with Sheila on Days of Our Lives
Days of Our Lives' Abe (James Reynolds) and Valerie (ex-Vanessa Williams) have decided to try the long-distance relationship road since she found a better job. However, Valerie will give Abe disappointing news, and he will take out his frustration on Sheila. Will Sheila put Abe in his place considering he is in the wrong?
Is Valerie breaking a date already that she and Abe have made to meet? The chemistry between these two is electrifying, will they bond over Abe's disappointment with Valerie and begin a relationship of their own?