Days of Our Lives Spoilers Thursday, February 7: Chad Confronts Stefan, Abigail Discovers Charlotte Is Missing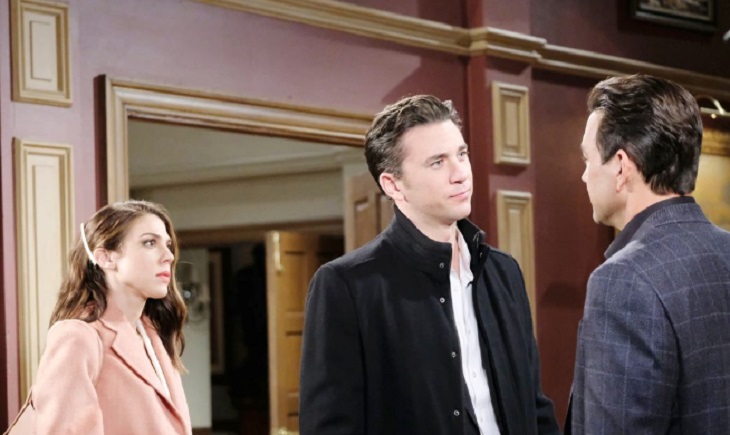 Days of Our Lives (DOOL) spoilers for Thursday, February 7, 2019, reveals Abby (Kate Mansi) will discover the Charlotte is missing after Jordan's (Chrishell Stause) visit.
Days of Our Lives Spoilers – Abigail Discovers Charlotte Is Missing
Abby won't realize that Jordan is the one who took Charlotte and will jump to the conclusion that Stefan (Tyler Christopher) probably had something to do with it. Abby could also feel that it could be Ben since he kidnapped Thomas (Asher Morrissette) when he was born.
Can they find the baby in time? Will Jordan attempt to hide the baby in Ben's (Robert Scott Wilson) hotel room to get him arrested for kidnapping?
DOOL Spoilers – Chad Confronts Stefan 
Days of Our Lives Chad (Billy Flynn) will assume that Stefan has kidnapped Charlotte when she comes up missing. Stefan believed Charlotte was his originally, so Chad feels he is a likely suspect. Stefan has just been shot saving Chloe (Nadia Bjorlin), so of course, Chad will think he hired Ben to do his dirty work.
Ben, on the other hand, is too busy worrying about Ciara (Victoria Konefal) who has turned up missing. Hope (Kristian Alfonso) has been harassing Ben over Ciara since she didn't come home after returning to Salem.
Days of Our Lives – Brady And Stefan Both Offer Chloe A Place To Stay
Days of Our Lives' Chloe has the cartel henchmen after her for killing Mateo (ex-Andoni Gracias) in Mexico. Chloe received a warning that neither her or her children are safe. Brady (Eric Martsolf) and Stefan will both want to protect her, and both will offer her a place to stay.
Days of Our Lives Spoilers Wednesday, February 6: Jordan Steals Charlotte After Abby Opens Up – John's Shocking Confession – Leo's Secret https://t.co/80ZVSPUefr pic.twitter.com/TmmpiZCZ7K

— SOS/CTS/HH (@SoapOperaSpy) February 5, 2019

p style="text-align: justify;">Brady is living at the Kiriakis mansion now, and Victor (John Aniston) will probably not be happy with this occurrence and Chloe is unlikely to want to live under his roof. Stefan and Chad are living in the Dimera mansion alone, and of course, Stefan will invite Chloe to move in there. Stefan believes the threat of Stefano will be enough to back off anyone seeking to harm Chloe. Which man will Chloe choose to be her protector?
Days of Our Lives Spoilers – Sarah Tries To Make Amends
Days of Our Lives' Sarah (Linsey Godfrey) will try to make amends with Eric (Greg Vaughan). Sarah doesn't want to lose the friendship she and Eric have forged in the last few months. Eric, however, has strong feelings for Sarah that she is unaware of and that will cause him to hold back. Will Sarah be able to mend their relationship or will Eric pull away to avoid the same situation that he had with Brady over Nicole (Arianne Zucker)?
Read more Celebrating the Soaps news, spoilers, and gossip on our Days Of Our Lives homepage