Days of Our Lives Spoilers Thursday, March 7: Jennifer Furious At Jack, Stefan And Chloe Get Closer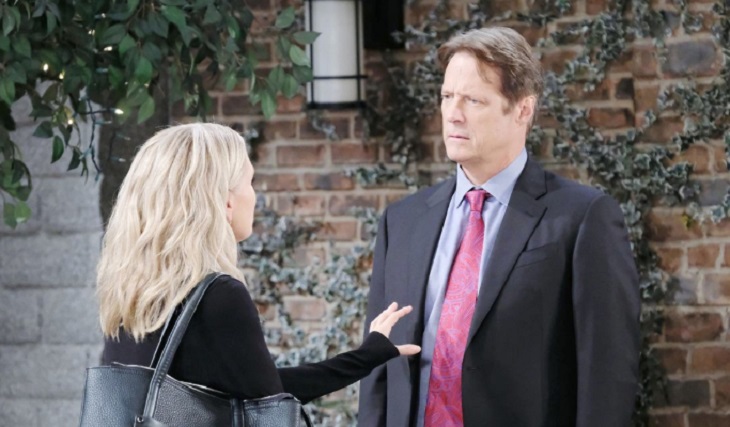 Days of Our Lives Stefan (Tyler Christopher) and Chloe (Nadia Bjorlin) have become close since she moved into his house for protection.
Days of Our Lives – Stefan Tells Chloe He'd Like A Romantic Relationship
Chloe and Stefan love to play chess together and are attracted to each other. Stefan has come to realize that Gabby (ex-Kate Mansi) is gone and wants to move on with his life. Stefan will tell Chloe he would like to pursue a romantic relationship with her. Is Chloe willing to take that chance or will she go into hiding for protection instead?
Days of Our Lives Spoilers – Brady Pressures Gabi 
Days of Our Lives Brady (Eric Martsolf) encouraged Gabi (Camila Banus) to go to the Dimera board to get her job back so they could work together. After Brady refused to help her, Gabi told him she would think about working with him to take down Stefan. Brady wants Chloe away from Stefan and will pressure Gabi to join forces with him to take Stefan down once and for all.
Days of Our Lives – Jennifer Is Upset With Jack
Days of Our Lives' Jack (Matthew Ashford) announces that he is running for mayor and Jennifer (Melissa Reeves) is furious. Jennifer can't believe that Jack has used J.J. (Casey Moss) and Haley (Thia Megia) to enhance his chances to run for mayor.
J.J. trusted his father with private information and Jack had thrown his trust back in J.J.'s face. Jennifer believes Jack is as bad as he was when he first came to Salem and there is no hope to save him from himself. In Jennifer's mind, Jack has chosen Eve (Kassie DePaiva) over his family and is only worried about himself. Is there any hope for Jack to win his family back in the end?
DOOL Spoilers – Claire Fumes Over Tripp Protecting Haley
Days of Our Lives Claire (Olivia Rose Keegan) is jealous of anyone who she believes is taking Tripp (Lucas Adams) attention from her and Haley is indeed no exception. Claire thinks Haley should have gotten in trouble and sent back to China. Claire will be furious that Tripp chose to help Haley and is likely to be the one who turns Haley into the cops.
Days Of Our Lives Spoilers Thursday, March 7: Brady Recruits Gabi for Stefan's Takedown – Claire Seeks Eve's Help https://t.co/YPXQwrsGY5 pic.twitter.com/iFwq4ZdbqF

— SOS/CTS/HH (@SoapOperaSpy) March 6, 2019
Could Claire make up an excuse to have Hope (Kristian Alfonso) come over and discover Haley there? Will Claire ruin her relationship with Tripp because of her insecurities? Will Tripp ever forgive Claire if she causes his friends arrest?
Read more Celebrating the Soaps news, spoilers, and gossip on our Days Of Our Lives homepage