Days Of Our Lives Spoilers Thursday, November 29: Chad Visits Abigail, Ben Needs Help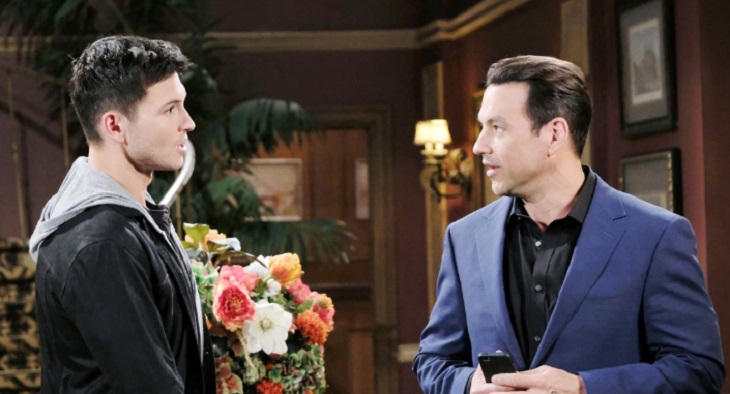 Days of Our Lives (DOOL) spoilers for Thursday, November 29 reveals Ben (Robert Scott Wilson) has been unable to find a job anywhere in Salem so he will turn to Stefan (Tyler Christopher) for help.
Ben Turns to Someone Unexpected About a Job
Ben knows that Stefan is an outcast as well and hopes he will be willing to give him a chance. However, Ben choked out both Stefan and his guard when he and Chad (Billy Flynn) kidnapped Abby (Kate Mansi). Does Stefan know that Ben helped his brother? Will Ben tells Stefan about his part in the kidnapping?
Days Of Our Lives Spoilers – Chad Visits Abigail
Chad goes to Bayview to visit Abby (Kate Mansi). Abby is very upset with Chad (Billy Flynn) and is likely not to want to see him. Abby cannot believe that Chad doesn't believe her when she knows Gabi (Camila Banus) is gaslighting her. Abby blames Chad for being committed and for being separated from her daughter. Chad is letting Gabi influence everything he does with Abby. Abby wants out of the facility, but she knows Chad isn't going to help her. Will Abby refuse to see Chad and insist he leaves?
Kate Tells Roman She Has Something on Stefan
Kate (Lauren Koslow) will tell Roman (Josh Taylor) she has something on Stefan. However, she doesn't know that Ted (Gilles Marini) has escaped. Will Kate's recording of Stefan admitting to holding Ted turn out to be useless because Ted has escaped? Will Roman get Ted to turn on Stefan without incriminating Kate if he can find him? Will Kate and Roman still be able to take Stefan down?
Their family reunion is the perfect present! ❤️ #DAYS
📸: @KateMansi pic.twitter.com/qSHkZ2CCnN

— Days of our Lives (@nbcdays) November 28, 2018
DOOL Spoilers – Leo Tells Will and Sonny a Secret About Kate
Leo (Greg Rikaart) has shown up and turned Will (Chandler Massey) and Sonny's (Freddie Smith) life upside down. Leo is demanding Sonny marry him and refuses to allow Will and Sonny to be together regardless of whether or not he goes through with the wedding. Leo isn't done dropping bombshells just yet. Kate was behind the whole sexual harassment lawsuit, but neither Will nor Sonny is aware of this.
Leo will make sure they know about Kate's involvement which will lead to a downfall because of Chad.'s involvements and the reason for wanting the Titan job will be exposed as well. Sonny is going to be furious with Chad for covering for Kate. Sonny and Chad are supposed to be best friends, and this reveal will certainly end that belief. Can Sonny, Will, and Chad's friendship survive?