Days of Our Lives Spoilers Tuesday, February 19: Chad Asks Abby To Marry Him, Leo Strikes Back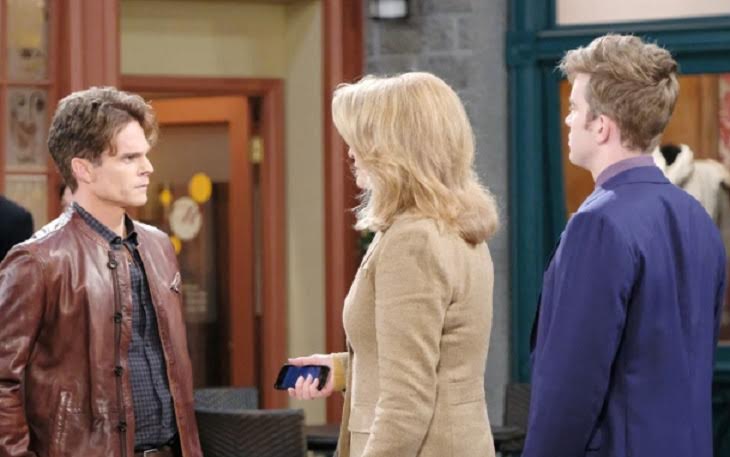 Days of Our Lives (DOOL) spoilers for Tuesday, February 19, 2019, reveals Chad (Billy Flynn) and Abby (Kate Mansi) make love after getting their daughter Charlotte (Matilda Hanna and Chloe Teperman) back.
Days of Our Lives – Chad Surprises Abigail 
After reuniting Chad will propose to Abby again. Abby divorced Chad to prevent Chad from committing her to Bayview. Abby still loves Chad and Chad loves her. Abby has had time to realize that Chad thought he was doing the right thing. Abby has forgiven Chad, and they will remarry by the end of the week.
DOOL Spoilers – Manipulative Diana Toys With John And Marlena.
Days of Our Lives Diana (Judith Chapman) will continue to toy with John (Drake Hogestyn) and Marlena (Deidre Hall). Marlena has asked for Diana's help in getting Leo (Greg Rikaart) to leave Will (Chandler Massey) and Sonny (Freddie Smith) alone.
Will Diana pretend to agree to help John and Marlena with Leo? Diana has told John that he is Leo's father. John, however, has not given any of this information to Marlena. Roman (Josh Taylor) advised John to wait until after Valentine's Day. Will Diana tell Marlena before John has the chance? Will Marlena put things together herself and confront John about not being honest.
Valentine's Day may be over but we're still feeling the love. #DAYS pic.twitter.com/drm1ukXqIN

— Days of our Lives (@nbcdays) February 18, 2019
Day of Our Lives – Leo Strikes Back At Sonny And Will
Days of Our Lives' Leo is furious with Will and Sonny for spending Valentine's Day together. Leo thought he had blackmailed Sonny into sleeping with him before Gabi (Camila Banus) thwarted his plan. Leo has threatened to turn in Will and Sonny several times over the past few months.
Leo will make good on his threats and turn Will and Sonny into the police. Eli will question both Will and Sonny about the attack on Leo and them trying to hide Leo's body. Ted (Gilles Marini) is the only other person who knows the whole truth about the situation, will he come to Will and Sonny's rescue?
DOOL Spoilers – Eli And Lani Share Romantic Moment
Days of Our Lives' Eli (Lamon Archey) and Lani (Sal Stowers) haven't had a lot of time off lately so they will celebrate a belated Valentine's Day. Eli and Lani will finally get some time for a little romance and some connecting. Eli and Lani will continue to grow closer with their Valentine's celebration. Lani and Eli have shared I love you. Lani and Eli have already lost a child together. Will Valentine's day lead to them moving in together or something more?
Read more Celebrating the Soaps news, spoilers, and gossip on our Days Of Our Lives homepage