Days of Our Lives Spoilers Tuesday, November 6: Sarah Horton Freaks, Sami Fills Marlena In On EJ News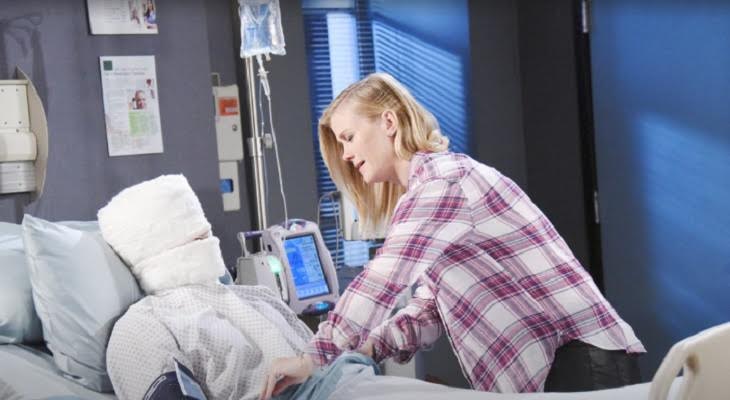 Days of Our Lives (DOOL) spoilers for Tuesday, November 6, 2018 reveals, Belle (Martha Madison) finally reunites with Marlena (Deidre Hall) now that she's awake.
Belle Reunites with Marlena and Makes Peace with John
Belle and John (Drake Hogestyn) will also make peace after their disagreement about Marlena's life support. Belle will likely be grateful to John for replacing Marlena with Hattie (Deidre Hall) and giving her time to get well. Will Belle be shocked that she couldn't tell the difference between the two? Will Belle feel better about the things Hattie said to her about pulling the plug?
Sami Confides in Marlena About Her Fears About EJ
Days of Our Lives' Sami (Alison Sweeney) will talk to Marlena and let her know about the DNA test. Now that Sami knows E.J. (formerly James Scott) is alive, she will confide her fears about his recovery to Marlena. E.J. hasn't reacted the way Will did to the serum; it is taking much longer for him to return to his old self.
Rolf also gave E.J. another dose of the serum, and no one knows how he will react to it. Sami is concerned about E.J.'s memory as well as his mental recovery. E.J. has been gone longer than Will and could have lasting effects because the serum was new when he received it. Sami will confide her concern about this to Marlena and seek advice on what to do.
We've been waiting for this moment! 👰🤵 #DAYS pic.twitter.com/dRooy20MKt

— Days of our Lives (@nbcdays) November 5, 2018
Bonnie Says Goodbye
Days of Our Lives' Bonnie (Judy Evans) will say goodbye after her lie is blown apart by Chloe's (Nadia Bjorlin) announcement. Since Adrienne (Judy Evans) has dropped the charges against Bonnie, will she go back to prison or leave Salem? Mimi (Farrah Fath) has made it plain that she wants nothing to do with her mother once this charade is over. Will Bonnie move on and try to find her next mark? Will Lucas (Bryan Dattilo) be allowed to give her a piece of his mind first?
Sarah Unleashes Her Rage
Days of Our Lives' Sarah (Linsey Godfrey) will unleash her rage on Rex (Kyle Lowder) as well. How dare he sleep with another woman just because they had a rough spot? How dare Rex get another woman pregnant? Especially an ex-girlfriend that Sarah knew nothing about until coming to Salem. Sarah is naturally upset and will be sure that Rex knows it. Will Sarah end things with Rex for good?