Days of Our Lives Spoilers Wednesday, January 30: Ben Drops A Bomb, Haley Lashes Out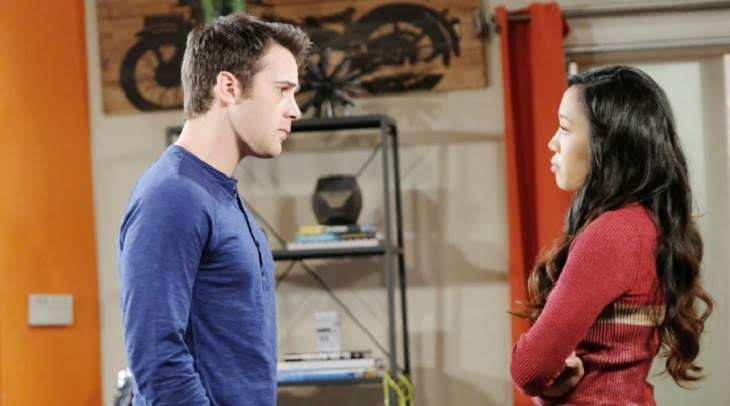 Days of Our Lives (DOOL) spoilers for Wednesday, January 30, 2019, reveals Ben (Robert Scott Wilson) believes that Claire (Olivia Rose Keegan) helped to ruin his relationship with Ciara (Victoria Konefal) by telling her about their partnership to separate Ciara and Tripp (Lucas Adams).
Days of Our Lives Spoilers – Ben Tells Tripp About Claire
Once Ben learns that Tripp and Claire are together, he can't help but return the favor and tell Tripp the truth about their partnership as well. Tripp is likely to lose it, and Claire will again lose her man. What will Claire do now to get even with Ben?
Days of Our Lives Spoilers – JJ And Haley Argue 
Days of Our Lives J.J. (Casey Moss) and Haley (Thia Megia) will argue when he tries to help her with her immigration issues. Haley is not about to get her sister Melinda (Laura Kai Chen) in trouble by trying to become legal now. J.J. knows that Haley is still under a lot of pressure, but she won't betray her sister or cost her the bid for mayor. Will J.J. ruin his budding relationship with Haley by trying to help her?
It's getting steamy in here! #DAYS pic.twitter.com/4cEvC1ZzXa

— Days of our Lives (@nbcdays) January 29, 2019
Days of Our Lives Spoilers – Jennifer Pours Her Heart Out 
Days of Our Lives Jennifer (Melissa Reeves) is frustrated and doesn't know where to turn when it comes to helping Jack (Matthew Ashford). Jennifer will finally talk to Adrienne (Judy Evans) about Jack and see if she can help to get through to him. Will Adrienne be able to help Jennifer deal with her issues with Jack?
Will Adrienne be able to give Jennifer any ideas on things that might jog Jack's memory? Could Adrienne contact Steve (Stephen Nichols) for help to bring their brother back to them? Is there any hope to bring Jack's memory back at all?
DOOL Spoilers – Tripp And Haley Connect.
Days of Our Lives' Tripp is mad at Claire over her plan to split up him and Ciara. Haley is upset with J.J. because he won't get this thing with her documentation go. Haley and Tripp had a good repertoire when they met at the hospital. Tripp is a former med student, and Haley is a nurse.
Since they have some things in common, Tripp and Haley will connect after they have issues with others. How far will their connection go? Will Haley and Tripp seek comfort in each other's arms? How will J.J. and Claire react if this happens?
Read more Celebrating the Soaps news, spoilers, and gossip on our Days Of Our Lives homepage