Days Of Our Lives Spoilers Wednesday, October 10: Hope Busts Sami And Rafe – Nicole Grows Desperate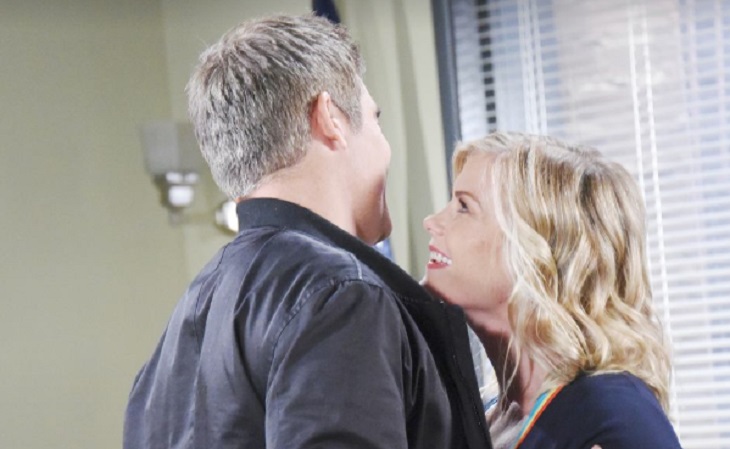 Days of Our Lives (DOOL) spoilers for Wednesday, October 10, 2018, reveals, Nicole (Arianne Zucker) knows that Eric (Greg Vaughan) is aware of why she left him now and had never stopped loving him.
Nicole Considers Extreme Measures to be with Eric.
Now that she and Eric have another chance to be together, she finds herself married to Xander (Paul Telfer). Xander is not going to let Nicole divorce him to be with Eric. Xander wants Eric dead. Will Nicole and Eric decide they have to kill Xander before he can kill Eric? Will John (Drake Hogestyn) be able to help take Xander down before Eric and Nicole have to resort to murder?
Hattie Causes Further Headaches for John.
Days of Our Lives' John wants nothing more than to get rid of Hattie (Deidre Hall) and marry Marlena (Deidre Hall). However, Hattie is not going to let John go that easily. Hattie has threatened to cause problems for both Kayla and Roman if John doesn't do what she has demanded of him.
What will Hattie come up with now to keep John under her control? Will John resort to asking Abe (James Reynolds) to pull the marriage license to keep it from being recorded? Will Roman make a deal with Hattie for her to let John out of this marriage.
Brady Continues to Gain Kristen's Trust.
Days of Our Lives' Brady (Eric Martsolf) is determined to get the information he needs out of Kristen (Stacy Haiduk) no matter what it takes. As Brady continues to gain Kristen's trust, will she relax enough to slip up and lead Brady to E.J. (James Scott)?
Brady used to love Kristen, is he risking his sanity to be with her. Is Brady risking his life as well? Kristen doesn't fully trust Brady and may never let go enough for him to find out what he needs to know. Kristen is her father's daughter, and she will do anything to keep Brady with her. Is Brady taking the risk of being brainwashed, imprisoned, or worse?
Xander is up to no good. #DAYS pic.twitter.com/1fq78UOt2m

— Days of our Lives (@nbcdays) October 9, 2018
Hope Finds Rafe Comforting Sami
Days of Our Lives' Sami (Alison Sweeney) is thrilled that her mom is ok, but she also knows that Xander tried to kill her. However, Sami still wants to find E.J. and Rafe (Galen Gering) understand this. Rafe is the only friend that Sami has in all honesty.
Sami will talk to Rafe about E.J. and other things going on in her life, and of course, Hope (Kristian Alfonso) will witness this. Hope is extremely jealous of Rafe's relationship with Sami and is not going to take this well. Will Sami become another sticking point in Rafe and Hope's marriage? Is Hope ever going to get over her jealous tendencies and trust her husband?