Days Of Our Lives Spoilers: Xander Goes Dark, Gwen's Sweet Revenge-Take Salem Spectator Over?
Days of Our Lives spoilers and updates tease that Xander Cook, (Paul Telfer), having given up on self-redemption, will go dark, and Gwen Rizczech (Emily O'Brien) will get sweet revenge. The two will team up and take the Salem Spectator over from Jack and Jennifer Deveraux (Matthew Ashford, Cady McClain) and hire Leo Stark (Greg Rikaart) as a gossip columnist!
Days Of Our Lives Spoilers – How Will They Do It?
One big question is exactly how Xander and Gwen will do it – take over the Spectator from the Deverauxs, apparently in an unethical way. One thing they might do is team up for blackmail – something Xander has a lot of experience in and so does Gwen. Jennifer has been away with her brother Mike Horton (Roark Critchlow) getting intensive emotional, mental, and drug rehab treatment for months, and it was Gwen who warned Jack about Jen's problem.
But one thing Gwen didn't tell Jack or anyone else was that it was Jennifer, high on pills, who ran her over in front of the Salem police station. But she may threaten to press charges and reveal the incident if Jack and Jen don't sign over the paper.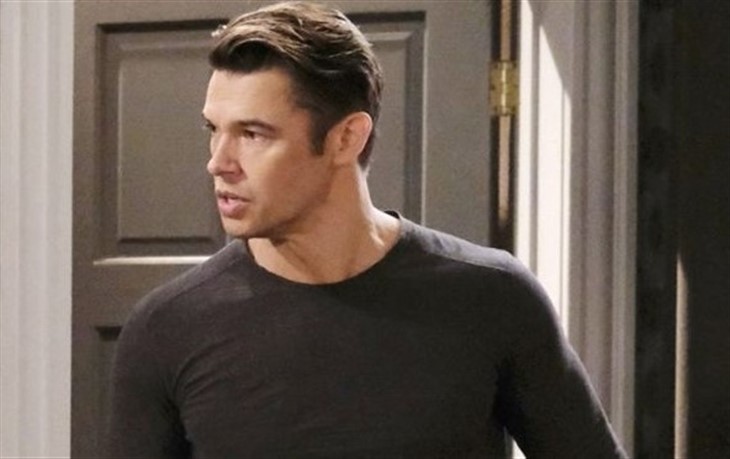 DOOL Spoilers – In A Chokehold
Xander might have some things he could hold over Jack as well, but it appears that Gwen is the one holding all the cards. Once the paperwork is done it's smooth sailing from there, with Gwen having her credentials back, maybe she'll let Dad keep his job as editor. Jack had given her an ultimatum – him or Xander, and she chose Xander but it was hard on Jack to follow through, he really thought she'd cave.
An eye for an eye, Jack gave her an ultimatum and so she gave him one – the paper or she presses charges against Jennifer. Xander takes over the advertising and sales department and deals with distribution of print copies and Gwen runs the website and gets her job back as investigative reporter.
Days Of Our Lives Spoilers – From Injury To Insult?
Usually the overused colloquialism is "from insult to injury" but in this case it's from injury to insult for Jack and Jen when Gwen hires Leo! She puts him on as a gossip columnist and turns part of the paper into a scandal sheet, which Jack doesn't like at all. It's only one column and it's kind of tucked in amongst the daily cartoons, but the dirty laundry of the Salemites soon becomes the most read part.
Certain gossip becomes downright dirty and Jack becomes worried about slander suits. But Leo doesn't do anything that isn't true, it's all bonafide exposé.
Be sure to catch up on everything happening with DOOL right now. Come back here often for Days Of Our Lives spoilers, news, and updates.