Days of Our Lives Weekly Spoilers December 3 to 7: Gabi Caught – Reunions and Bombshells – Abby's Released!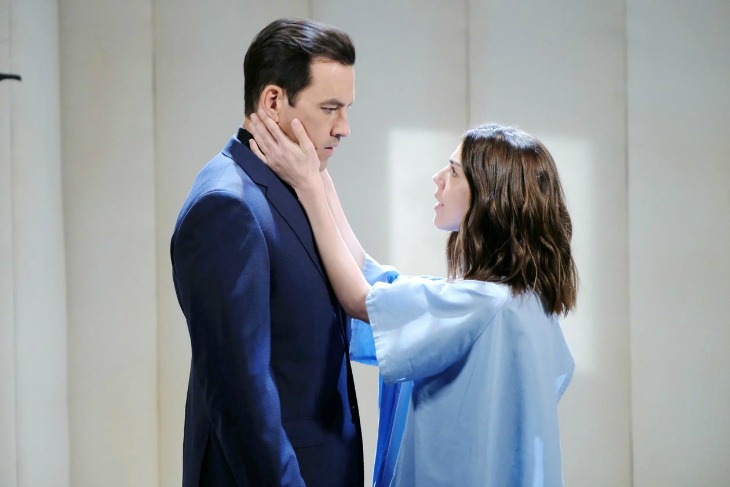 Days of Our Lives (DOOL) spoilers for the week of Monday, December 3 through Friday, December 7, 2018, reveal a lot of scheming happens this week – some with good intentions and some extremely sinister. Secrets could be exposed as one gets careless. A family tries to reconnect while loved ones struggle to reconnect. It looks like a great week ahead in Salem and one DOOL fans will not want to miss!
DOOL Spoilers – Ted Agrees To Help Hope Put Ben In Prison
DOOL sources tease that after Hope Williams (Kristian Alfonso) caught Ted Laurent (Gilles Marini) back in Salem, he is determined to be protected and will do anything to help her put Ben Weston (Robert Scott Wilson) in prison. He will attempt to get a confession out of the former serial killer about setting the fire at the cabin that nearly killed Ciara Brady (Victoria Konefal). Things may not go according to plan, as Ciara and Ben will finally go out on their very first date this week, much to the chagrin of all her loved ones!
Days of Our Lives Spoilers – Things Don't Look Good For "Chabby"
Now that Abigail Deveraux DiMera (Kate Mansi) has rejected Chad DiMera (Billy Flynn), insisting she has betrayed him; things don't look good for "Chabby" at all. Chad will find a careless Gabi Hernandez (Camila Banus) with baby Charlotte's paternity results this week, but will the conniving witch be able to talk her way out of this one too?
Thank you @MarciMiller for your stunning portrayal of Abigail. And Gabby. And Dr. Laura. We asked a lot you and you always delivered. Wishing you the best in all your future endeavors! ❌⭕️❌⭕️ #days pic.twitter.com/WWUC9bPUwx

— Ron Carlivati (@carlivatiron) November 20, 2018
Weekly DOOL Spoilers – Abigail Convinces Stefan Gabby Is Back
Meanwhile, Abigail will be able to convince her husband, Stefan DiMera (Tyler Christopher) that her alter "Gabby" is back and he will have her released from Bayview; this definitely spells trouble for Gabi who has revealed her hand to Abigail, believing she would never come home again!
DOOL Spoilers Lucas Is Back
Days of Our Lives spoilers reveal Chloe Lane (Nadia Bjorlin) is excited that Lucas Horton (Bryan Dattilo) has come back from Europe, after seeing Sami Brady DiMera (Alison Sweeney) and their children; but she won't be so thrilled with the bombshell he has about their relationship.
Brady Wants To Repair His Relationship With Eric
Brady Black (Eric Martsolf) knows things are bad between him and his brother, Eric Brady (Greg Vaughn) ever since he chose to save him, instead of letting him die with Nicole Walker (Arianne Zucker) in the warehouse explosion; but this week he believes there is a way he can fix things. Will these two brothers ever be close again, especially now that Brady's other brother, Paul Narita (Christopher Sean) has moved out of Salem?
Be sure to tune into NBC's Days of Our Lives (DOOL) on Monday, December 3, 2018, to catch up on all the exciting stories unfolding right now in Salem. Check Celebrating the Soaps often for updates, news, rumors and spoilers!
Read more Celebrating the Soaps news, spoilers, and gossip on our Days Of Our Lives homepage