Days of Our Lives Weekly Spoilers July 31 to August 4: Tripp Confronts Kayla, Chad Profess His Love – Brady Upset At Nicole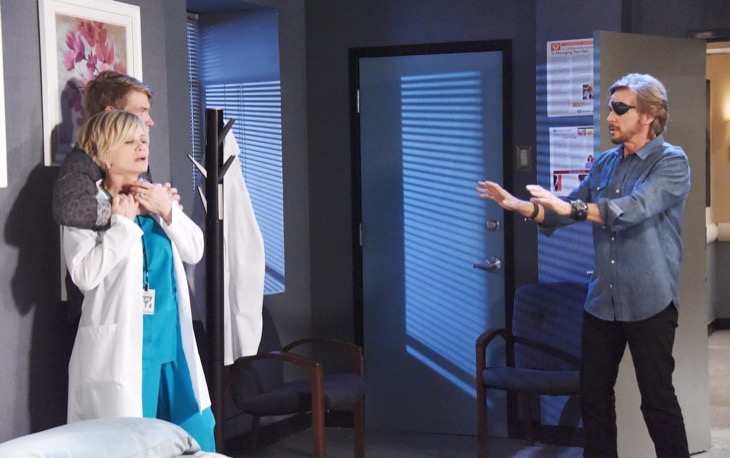 Days of Our Lives spoilers indicate that there will be plenty of shake ups during the Jul 31 to August 4 episodes. In fact, there will be a major injury, Eric will tell Nicole about his rekindled feelings for her and Chad is going to take some serious action.
Spoilers say that the week will kick off with Abigail getting seriously injured while trying to rescue Chad. During Monday's episode, Marlena finds herself in a compromising situation. John and Paul come up with a new strategy against Victor while Steve grows increasingly suspicious that Tripp might have set up Kayla at the hospital.
On Tuesday, fans will see Chad, Jennifer and JJ hold a vigil for Abigail. Hope and Rafe will hunt for Dario while Roman is left wondering if Eric still has feelings for Nicole. Of course, Eric makes it pretty clear that he does. What's more, Brady is seen listening to a conversation between Nicole and Maggie.
In the meantime, Angelica is dealing with some major problems of her own. Gabi also reveals that Abigail's marriage to Dario was for green card purposes.
On Thursday, fans will see Abigail make it through surgery. Unfortunately, though, she's not out of the woods. Chad considers turning himself into police. Although, no one knows if he'll really turn himself in.
In Friday's episode, Tripp will confront Kayla. He will apparently accuse her of killing Ava. Her vows to make her pay for her actions. Gabi will also hear Chad profess his love for Abigail while Brady is left upset over Nicole's lies.
It sounds like another dramatic week for everyone! In the meantime, let us know what you think by dropping us a line with your thoughts in our comments section below.
Also, don't forget to check back with Celebrating the Soaps for all the latest news, updates and spoilers on Days of Our Lives right here.