General Hospital Spoilers for Monday, September 18: Scott Questions Elizabeth – Jordan Demands Answers – Sam Has Hope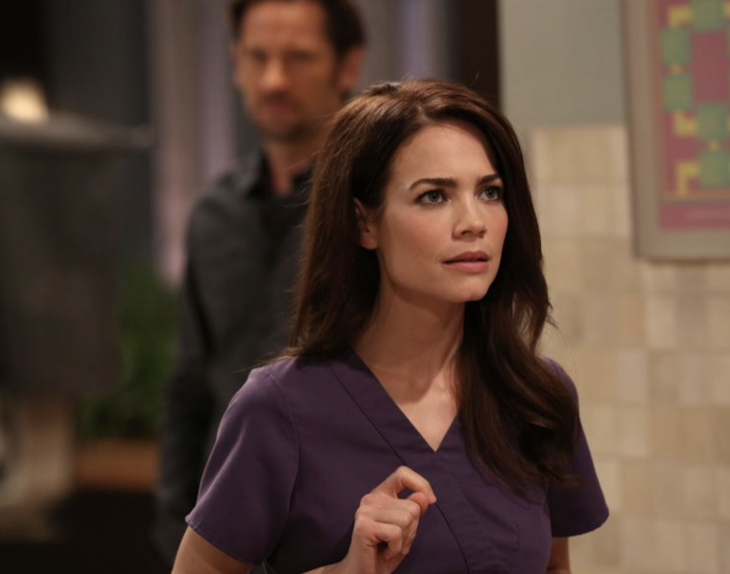 The General Hospital episode for Monday September 18 promises plenty of action and drama. Please be sure to tune in, you don't want to miss any of it.
Elizabeth Questioned About Her Intentions
Monday's episode of General Hospital finds Scotty (Kin Shriner) questioning Elizabeth (Rebecca Herbst) about her intentions for his son Franco (Roger Howarth). It seems the art sale is a big success and Scotty wants a little piece of the financial action. He may be trying to secure his place in Franco's windfall and trying to push Elizabeth out of the picture by implying she wants Franco for his new found financial success.
Anna Threatens Finn
Anna (Finola Hughes) warns a reluctant Finn (Michael Easton) that he can either be part of her solution or part of the problem. General Hospital spoilers indicate Finn and Anna become partners in criminal espionage. Finn has made is intentions clear to Anna that he is not interested in joining her on a quest to find missing Jewels. So just how will Anna convince Hamilton Finn that she needs him? What method will Anna use too convince the Good doctor to join forces with her. Blackmail maybe her only option.
Someone Tries To Reach Ava
Meanwhile, over in Russia at the clinic, Ava (Maura West) hears her phone ring and demands to know who is calling her. Who could be trying to reach her? Griffin (Matt Cohen) has been feeling very guilty lately and recently asked Anna to help him use the services of the WSB is find out the location of that clinic. Will Ava's handler Larisa (Deborah Strang) keep Ava from answering her phone by convincing her it is in her best interests not to answer it or will Ava demand the return of her phone.
Jordan Makes Demands
Curtis (Donnell Turner) and Sonny (Maurice Benard) have just finished a business meeting. Jordan (Vinessa Antoine) witnesses the tail end of the conversation and demands to know what the meeting is all about. They have just decided to renew their relationship and police commissioner Jordan is not about to allow her boyfriend to associate with the mob. ABC General Hospital spoilers tease Curtis has a lot of explaining to do as he attempts to smooth over the situation with his girlfriend.
Franco's mom Betsy (Deborah Strang) warms him to be careful what he asks for. ABC spoilers hint Franco may have to compromise relationships.
Jason Waking Up
Across town at General Hospital Sam (Kelly Monaco) tells Sonny and Dr. Griffin that Jason (Billy Miller) is waking up. Could she be giving in to false hope or has Jason's recovery finally begun to show positive signs?
Be sure to tune in to watch General Hospital on ABC on Monday September 18, you won't want to miss any of the exciting drama
Also, don't forget to check back with Celebrating the Soaps for all your latest news, updates, and spoilers for General Hospital along with all your other favorite daytime television soaps.