General Hospital Spoilers for Tuesday, September 5: Nina Questions Valentin – Kiki Gives Ava Advice – Curtis Finds Hayden – Griffen Distraught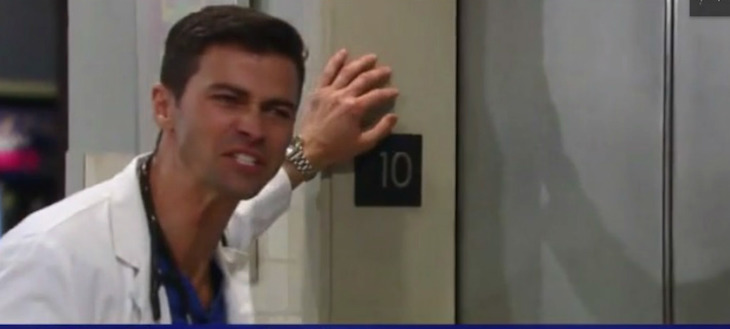 The Jewel theft drama continues on the Tuesday September 5th episode of General Hospital as Anna (Finola Hughes) and Andre (Anthony Montgomery) attempt to tie Valentin to the theft of a recent diamond heist. ABC General Hospital spoilers tease Anna is very pleased with herself as she and Andre investigate a lead that seems to point them straight to Valentin's (James Patrick Stuart) door step.
Should Nina (Michele Stanford) be concerned? Nina questions Valentin to see if he is hiding something from her. Is he a suspect and did he follow her to Morocco for love or for a beautiful Sapphire? Does she suspect him so soon after she has decided to go back with him? Remember, he only promised to never betray her with another woman; he never said anything about turning away from his criminal activities.
Related: Anna's Diamond Quest Takes Her To Europe – Will This Lead To A Nikolas Cassadine Recast?
Meanwhile, Nelle (Chloe Lanier) jokes with Dillon (Robert Palmer Watkins) and reveals some details of her shady past. Will she admit to being a suspect in another case or is she referring to her drama with Carly? She comes across as very confident.
Curtis (Donnell Turner) tells Finn (Michael Easton) he has located Hayden (Rebecca Budig). She has covered her tracks very nicely and does not intend to be found; will Finn let her go or insist Curtis give him the whereabouts of his runaway bride. Will Hayden talk to him or refuse any contact with him? General Hospital spoilers say Finn will suffers a broken heart.
Related: Nelle Looks Guilty – Jake Curious About Kids In Photo – Alexis Doubts Sonny Can Leave Mob – Jason Goes To Surgery
Griffin (Matt Cohen) is in a bad mood; can Ava offer him comfort in his time of need? Will this lead to more than just a friendship? Can Ava offer him something more than his faith?
The General Hospital episode for September 5th promises plenty of action and drama and suspense. . Please be sure to tune in; you don't want to miss any of the drama.
Affiliate links included below. Thanks for your support!
Also, don't forget to check back with Celebrating the Soaps for all the latest news, updates and spoilers for General Hospital along with all your other favorite daytime television soaps.