General Hospital Spoilers: Anna And Valentin's Confrontation, Why Wouldn't He Trust Her About Charlotte?
General Hospital spoilers and updates tease Anna Devane (Finola Hughes) and Valentin Cassadine (James Patrick Stuart) have a confrontation. Why wouldn't he trust her with what's been going on with his daughter, Charlotte Cassadine (Scarlett Fernandez)?
General Hospital Spoilers – Anna Devane's Still Angry
Anna's still angry after Valentin finally said something about Charlotte stalking her on the staircase landing at GH, and she slapped him in the face.
If she had known it was Charlotte, she would have never taken a shot, blaming herself fully for shooting the child, even though there was no way she could have known.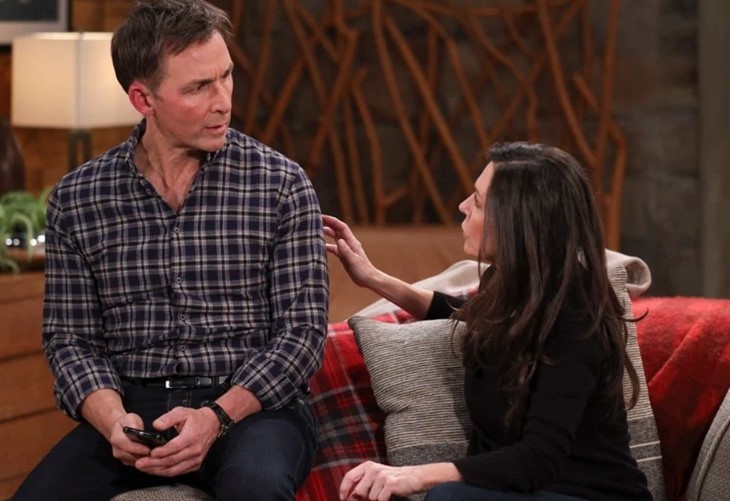 Anna's having a difficult time forgiving herself for what she considers a grievous error but the main problem she's having with Valentin is issues of trust.
How can she trust him if he doesn't trust her with his daughter's problems, does he really think that she wouldn't have understood?
Does Valentin really think she would have called and had Charlotte arrested without talking to him first?
GH Spoilers – Anna Devane Is A Mother
Anna is a mother herself, even though in her case she wasn't around for her daughter Robin Scorpio-Drake's (Kimberly McCullough) teenage years.
She was presumed dead, as was Robin's father, Robert Scorpio (Tristan Rogers) thanks to Cesar Faison's (Anders Hove) machinations; however, she had Robin when she was younger.
To suffice, Anna knows what it is to be worried about one's child, and even though Robin never had problems like Charlotte, she would have understood what Valentin was going through.
If he had only trusted her enough to open up to her, she may have been able to help him maneuver through Charlotte's bizarre behavior.
The tarot cards would have been a huge red flag to Anna, but Valentin couldn't see the forest for the trees; tarot cards and Victor Cassadine (Charles Shaughnessy) always spell trouble!
General Hospital Spoilers – Trust Is Broken, Can They Survive As A Couple?
Valentin and Anna get into a very emotional confrontation, and it's obvious trust is broken between them-if there ever was trust to begin with.
Anna thinks back to when they were first starting to get really involved and how Victor was blackmailing him to work for him.
It was one lie after another that Valentin felt forced to tell Anna-and now it seems like the same thing, over Charlotte and she accuses him.
This was during the time that Victor had basically kidnapped Charlotte and kept her in the boarding school, where he made sure she was indoctrinated against her. Why couldn't Valentin have told Anna the truth even back then-is he afraid of what she'll do?
Be sure to catch up on everything happening with GH right now. Come back here often for General Hospital spoilers, news, and updates.