General Hospital Spoilers August 29: Andre Questions Sam – Nell Questions Michael – Sonny Meets With 5 Families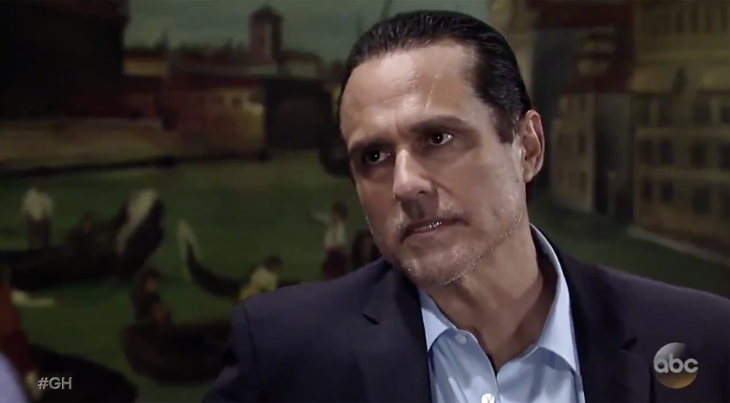 The General Hospital episode for August 29 promises plenty of action and drama. Please be sure to tune in, you don't want to miss any of the drama.
Olivia (Lisa LoCicero) rushes out to an emergency. Could this have something to do with Julian's (William DeVry) guilty verdict?
It seems Amy (Risa Doreen) can't stay away from Nathan (Ryan Paevy) for very long. She may have a new project up her sleeves for Nathan. ABC spoilers tease a big confrontation is about to occur which may cause a fight between high school rivals Amy and Maxie (Kristin Storm).
Related: Anna's Diamond Quest Takes Her To Europe – Will This Lead To A Nikolas Cassadine Recast?
Sam (Kelly Monaco) seems to still be struggling with guilt and fear. Andre (Anthony Montgomery) questions her. Will he discover her guilty secret about shooting Sonny (Maurice Benard) and kicking him into that hole in the ground? Will he feel obliged to report her or keep her secret?
It appears Maxie has a big surprise planned. Is she moving back to Port Charles for good? And how will this affect Man Landers. Will she also bring Her baby girl with her?
Nell (Chloe Lanier) can't believe her good fortune being Michael's (Chad Duel) girlfriend. ABC Spoilers hint a big part of her past is about to be revealed. It seems Felicia (Kristina Wagner) and Bobbie (Jackie Zeman) are on the case and Carly (Laura Wright) is trying to stay as far away from it as possible, since she may have other more pressing matters on hand.
Related: Nina Makes An Offer – Dillon Moves On – Michael Fights For His Life
Sonny and Jason (Billy Miller) meet with the five families in order to discuss his plans for giving up his territory. Could this transition be as easy as he thinks or is his decision to leave the mob going to cause a mob war where everyone fights to see who will gain control of Port Charles?
Affiliate links included below. Thanks for your support!
Also, don't forget to check back with Celebrating the Soaps for all the lasts news, updates and spoilers for General Hospital along with all your other favorite daytime television soaps.
SaveSave