General Hospital Spoilers Friday December 15: Finn's In Denial – Liz Visits Andrew – Alexis Delivers A Crushing Blow To Drew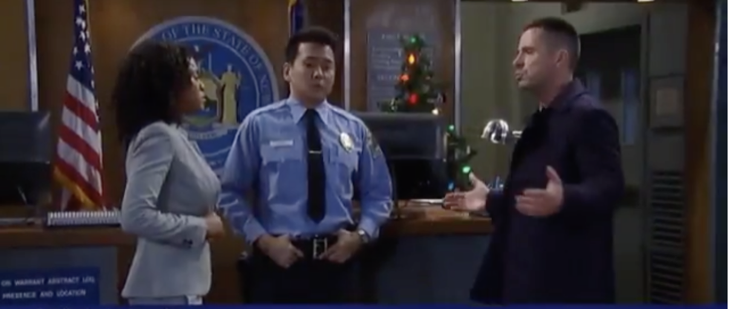 The General Hospital episode for Friday, December 15 promises plenty of action and drama. Please be sure to tune in, you don't want to miss any of the drama.
Julian Waiting For News
Julian (William DeVry) is waiting to hear if he will receive another trial. He has been depending on his attorney Scott Baldwin (Kin Shriner) to help him out of this mess. Scott has called for a meeting with his client, will it be good news? ABC General Hospital spoilers hint a celebration is in order and Scott is invited for drinks. Could this be the good news Julian has been waiting for? Scott looks across the table and instructs Julian to sign his life away. Scott seems pleased with himself.
Finn's In Denial
Finn (Michael Easton) and Anna (Finola Hughes) shared a somewhat passionate kiss but Finn seems to be in denial. He is just getting over her massive break up with the mother of his child and this is quite unexpected. ABC General hospital spoilers hint that Anna and Finn get closer. Finn is determined to fight the feeling as he shouts at Anna saying, "You think I want to be with you.?" Both seem to be drawn together but are denying their feelings for one another.
Franco's Guilt Eating Him Up
Franco (Roger Howarth) has been carrying around lots of guilt, and it is beginning to take its toll. General Hospital spoilers state Franco is overwhelmed with guilt. Kiki (Hayley Erin) bumps into Franco at General Hospital and notices his disheveled look and asks him if everything is ok. Franco proposed to Elizabeth (Rebecca Herbst) in the hopes she would marry him on Christmas Day however, she wants to hold off until the year, so the kids can enjoy Christmas without her worrying about wedding planning. Franco is terrified that Elizabeth will find out he is keeping a secret about the twins. Will Franco ease his conscience by telling his secret to Kiki and then ask her to keep his secret. Franco is about to burst if he doesn't tell someone and get this off his chest.
Elizabeth Visits Andre
Elizabeth pays a visit to Andre (Anthony Montgomery) in lockup at the PCPD. Has he called her down to tell her about Franco and his secret? He did vow to Franco he would keep his secret under the patient-doctor confidentially clause, but could he have had a change of heart? Andre tells Elizabeth that it's about Franco, while Elizabeth shows her disdain towards the doctor and asks, "What about Franco?" It's clear that Elizabeth did not come to see the doctor of her own accord. Perhaps Andre is trying to offer some help to his former patient by speaking on his behalf to his bride to be. Will Elizabeth listen with an open heart or reject anything Andre says to her?
Julian Called To Police Station
While Elizabeth visits Andre, Julian Jerome is summoned to the police station where he confronts police Commissioner Jordan Ashford and demands to know why she has dragged him down there. Perhaps it's his lucky day. Maybe Scott has achieved the impossible for Julian and Jordan may just want to remove his ankle monitor. Merry Christmas to you Julian.
It's past time Sam and Jason had a private conversation. But how deep will it go? A brand-new #GH starts RIGHT NOW on ABC! pic.twitter.com/zcjaEIspPW

— General Hospital (@GeneralHospital) December 14, 2017
Drew Finds Out He Is Not Legally Married
Sam (Kelly Monaco) has been talking to Jason (Steve Burton) on the pier where he disappeared five years ago. She pleads with him and tells him she is married to Drew (Billy Miller). While ABC General Hospital spoilers state Alexis has the unenviable task of delivering a very painful truth. Alexis meets with Drew Cain to tell him that he and Sam are not legally married. Another blow for Drew and Sam. Will Sam ask Jason for a divorce so that she can legally marry Drew, or will this be the end of their relationship? Perhaps it is for the best so that Sam will be able to take some time and listen to her heart and see where it leads. It doesn't look like they will have a very merry Christmas this year.
Be sure to tune in to watch General Hospital on ABC on Friday, December 15 you won't want to miss any of the exciting drama.
Also, don't forget to check back with Celebrating the Soaps for all your latest news, updates, and spoilers for General Hospital along with all your other favorite daytime television soaps.
Also, don't forget to check back with Celebrating the Soaps for all your latest news, updates, and spoilers for General Hospital along with all your other favorite daytime television soaps.