General Hospital Spoilers: Friday, January 11 – Liesl Taunts Valentin – Ava Stuns Franco – Anna Goes Blind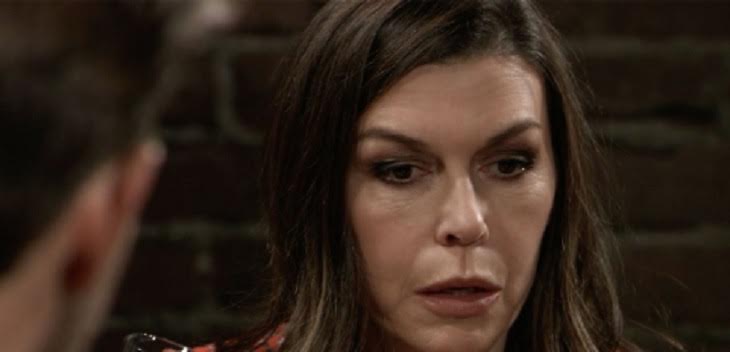 General Hospital spoilers for Friday, January 11, tease that Liesl Obrecht (Kathleen Gati) will have a little fun with Valentine Cassadine (James Patrick Stuart). Liesl knows that Valentin brought Sasha Gilmore (Sofia Mattsson) to town to pose as Nina Reeves' (Michelle Stafford) daughter, and it looks like she'll taunt Valentin with it a bit. "Do you want to tell Nina what we've been keeping from her, or shall I?" she'll say, with Nina standing by.
Meanwhile, Franco Baldwin (Roger Howarth) will run into Ava Jerome (Maura West) on the pier. She'll be in the middle of setting a trap, possibly for the Port Charles serial killer, and Franco will startle her. But it seems her actions will startle him in return. "Ava, what the hell are you doing?" he'll shout.
Next, on the new episode of GH on Friday, January 11, Sonny Corinthos (Maurice Benard) will catch up with Drew Cain (Billy Miller). News of Oscar Nero's (Garren Stitt) failed clinical trial has spread, and Sonny will want to tell Drew personally that he's there for him in his time of need. "Anything you need, all you've got to do is ask," Sonny will say.
Ryan Chamberlain (Jon Lindstrom) will meet up with someone on the pier, and the conversation will be a tense one. Ryan will tell this person that "the time has come for you and I to stop working together." It's doubtful that he's talking to Jordan Ashford (Briana Nicole Henry), which is the only person he's officially working with right now. Ryan wants to keep close to the police investigation into the Port Charles murders, so he's likely talking to someone else. Could it be one of his patients?
Mac turns to "Kevin" for help understanding Ryan's copycat, West Coast. But how will the killer use the insight? A brand-new #GH STARTS NOW on ABC! pic.twitter.com/n4ZwS9ZdqA

— General Hospital (@GeneralHospital) January 10, 2019
Meanwhile, at the hospital, Griffin Munroe (Matt Cohen) will find himself getting irritated with Hamilton Finn (Michael Easton). Griffin has been having a tough time dealing with the murder of Kiki Jerome (Hayley Erin), and he'll be on edge and testy. Finn may just want to help and reach out to Griffin, but Griffin will snap at Finn and reject his attempt to help.
Finally, on Friday, January 11, Peter August (Wes Ramsey) will try to help an ailing Anna Devane (Finola Hughes). Anna's just collapsed in Peter's arms, and he's trying to get a grip on what's going on with her. She'll be short of breath, weak, and she'll shock Peter when she exclaims that she can't see anything. What could be going on?
It looks like we're in for a great episode on Friday! Stay tuned to the ABC soap and don't forget to check Celebrating The Soaps often for the latest General Hospital spoilers, updates, and news.