General Hospital Spoilers: Friday, March 8: Jason Tracks Ryan And Ava – Sonny Gets A Lead On Dante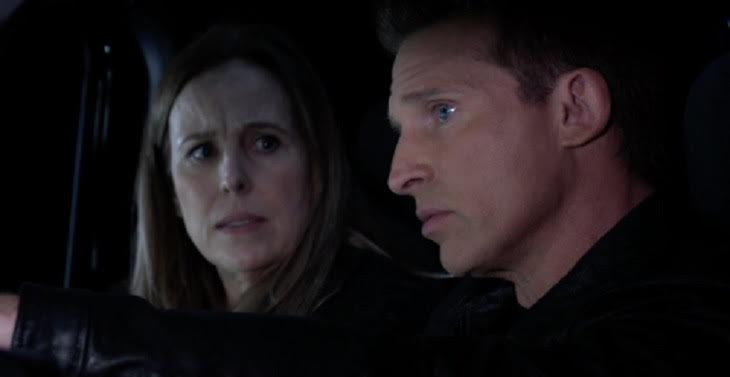 General Hospital spoilers for Friday, March 8, tease that Jason Morgan (Steve Burton) will burst into Ryan Chamberlain (Jon Lindstrom) and Ava Jerome's (Maura West) hotel room in Niagara Falls, but he'll find it empty and the two gone. Jason will regroup with Laura Webber (Genie Francis) and tell Laura that Ryan and Ava are headed to Canada. It looks like they'll be trekking to Canada via the footbridge, with Jason and Laura hot on their trail.
Of course, viewers know that Ryan has dumped Carly Corinthos (Laura Wright) at undisclosed location out in the cold. Carly's unconscious and in bad shape, which puts both Carly and her unborn baby in serious jeopardy. Ava will be simultaneously worried about Carly and terrified of "Kevin," who she thinks has had a break with reality. Ava will beg Ryan to let her call 911 and summon help for Carly.
Meanwhile, Robert Scorpio (Tristan Rogers) and Sonny Corinthos (Maurice Benard) will continue their quest to find Dante Falconeri (Dominick Zamprogna) in Turkey. It looks like they'll go to the address that the fortune teller gave Sonny after his palm reading, and Robert will remark that it looks like they're in the right place. They'll encounter someone, and Sonny will ask that person if his son is dead.
General Hospital – Maxie Hatches New Plan To Get DNA Sample From Sasha
In other matters, Maxie West (Kirsten Storms) and Peter August (Wes Ramsey) will have a chat, possibly to regroup about arranging another DNA test for Sasha Gilmore (Sofia Mattsson). It looks like Maxie may have another plan to get a DNA sample from Sasha, and Peter won't object, which will leave Maxie wondering whether Peter ever says no.
Speaking of Sasha, she and Valentin Cassadine (Robert Patrick Stuart) will have another clandestine chat about the scam they're pulling on Nina Reeves (Michelle Stafford). Sasha is growing increasingly wary about what they're doing to Nina, but Valentin will say that they must continue because they're giving Nina something that she wants above all else. Will Sasha agree?
Meanwhile, Kristina Corinthos-Davis (Lexi Ainsworth) and Sam McCall (Kelly Monaco) will have a heart-to-heart about Sam's future and what she wants out of life. They'll discuss Sam's recent breakup with Jason, and how there's so much more waiting for Sam at Dawn of Day (DOD) if she wants it. But Kristina will question whether Sam really wants DOD, or whether she wants to go back to her old life.
General Hospital Alum Vinessa Antoine's New Canadian Series Diggstown To Be Shown In US#GHhttps://t.co/B0eNf7zxwi

— SOS/CTS/HH (@SoapOperaSpy) March 7, 2019
Finally, Alexis Davis (Nancy Lee Grahn) will get a surprise visit from someone. GH spoilers indicate that it will be Julian Jerome (William deVry), who will put Alexis through he wringer for some reason. He may have some burning questions about Alexis' new therapist, since it originally seemed that he may be a love interest for her.
It looks like we're in for a great episode on Friday! Stay tuned to the ABC soap and don't forget to check Celebrating The Soaps often for the latest General Hospital spoilers, updates, and news.
Read more news, spoilers, and gossip on our Celebrating The Soaps General Hospital home