General Hospital Spoilers Friday Sept 8: Ava Plans In Motion – Griffin Seeks Out Elizabeth – Amy Tightens Grip On Nathan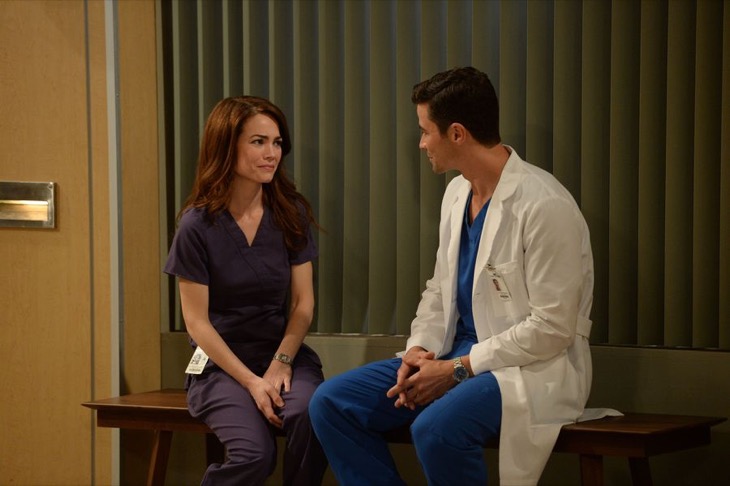 General Hospital for September 8 finds Aunt Stella (Veree Watson) involved in a conversation with her Nephew T.J.(Tequan Richmond). it seems she may be about to leave Port Charles as she tells him her work here is done. Meanwhile, Jordan (Vinessa Antoine) and Curtis (Donnell Turner) are caught up in a romantic moment and Jordan asks him if they are back together. Are they? And will Aunt Stella be so ready to leave once she finds out about this reunion?
Franco (Roger Howarth) seeks the help of his father Scott Baldwin (Kin Shriner). He is desperate for answers to the puzzle of the picture he discovered. His imaginary friend is not so imaginary after all. ABC Spoilers indicate Scotty may have mad skills in the court room but when it comes to detective work he is totally useless to Franco. Scott tells Franco he is not going to make things any better. Does Scotty know more than he is letting on? Looks like Franco may be forced to seek help elsewhere or do the job himself.
After steamy kiss in the gym with Ava (Maura West), Griffin (Matt Cohen) has a heart to heart talk with Elizabeth (Rebecca Herbs) at the hospital. It seems the good doctor is having trouble sorting out his feelings for Ava. Has Ava opened a Pandora's box of feelings Griffin has tried to keep repressed? General Hospital spoilers tease Griffin is about to go on a soul-searching journey as he and Elizabeth continue to forge a friendship. Will this stir up jealous feelings in Franco?
Ava sits down to talk with Valentin Cassadine (James Patrick Stewart) where demands she give him a yes or no answer. Will She take his offer in a selfish need to regain her beauty? Her kiss was soundly rejected by Griffin and now she is determined to have her way. She promised Spencer Cassadine (Nicolas Bechtel) she would help him in his civil law suit against Valentin, but General Hospital Spoiler may indicate otherwise.
Amy (Risa Dorken) refuses to let Nathan (Ryan Paevey) out of his contract. She informs him their relationship is not over by a long shot. Is she holding on to him for love, revenge or money? It's clear she and Maxie Kristen Storms) have a shaky past high school relationship. Could she be attempting to steal Maxie's man to get back at her for all the pain she caused in high school?
Maxie wants to come back to work at Crimson magazine and asks Nina (Michele Stafford) for her job back. For the sake of family, will Nina take her back or is it too late?
Be sure to tune in to watch General Hospital on ABC on Friday September 8. You won't want to miss any of the drama.
Also, don't forget to check back with Celebrating the Soaps for all the lasts news, updates and spoilers for General Hospital along with all your other favorite daytime television soaps.