General Hospital Spoilers: Friz In Danger – Will Liz Ever Trust Franco Again?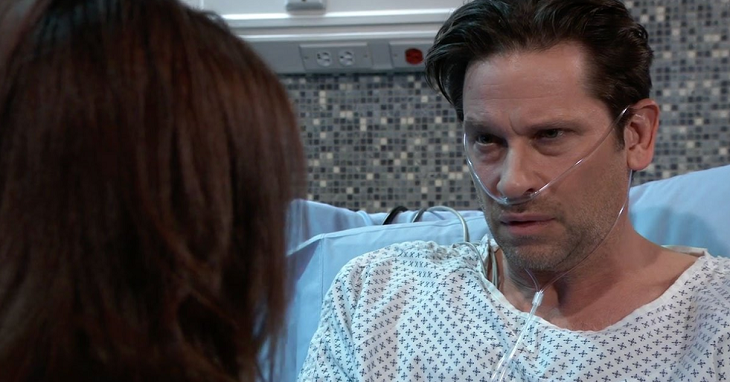 General Hospital spoilers tease that Elizabeth Webber Baldwin (Rebecca Herbst) still has enormous trust issues. And in spite of all the trust and belief in Franco Baldwin (Roger Howarth) through his guilty plea and publicized interview with Lulu Falconeri (Emme Rylan) and his severe stab injury at the hands of Ryan Chamberlain (Jon Lindstrom) and her worry over that, those trust issues may extend to Franco!
On the Monday, March 11 episode of GH, he looked wistfully at Liz's serious face and asked if there will be a time when she tells him it's enough.
Of course, Liz's trust issues may not even be specifically with Franco, but with men in general. She was raped as a teenager, and that can cause that kind of distrust. When she was with Drew Cain (Billy Miller) when he was Jake Doe, she seemed to trust him. But would there have come a time when she wouldn't?
General Hospital Spoilers – Liz Hasn't Always Been Trustworthy Herself
Then again, Liz wasn't especially trustworthy at that time. She knew (or thought she did, like everyone else) that Jake Doe was really Jason, and kept it a secret because she didn't want to give him up to Sam McCall (Kelly Monaco).
It's also possible her son Cameron's (William Lipton) lies about going to Niagara Falls might have triggered her trust issues. Cameron is her son, and a very young man, but still a male. If Liz is upset about Franco's lies, which include keeping her out of the loop about Jordan Ashford's (Briana Nicole Henry) plan and his involvement in it to smoke the serial killer out into the open, that will soon be resolved.
Jordan is awake now and should be able to verify that Franco had to keep it a secret from everyone, including Liz. Besides – Liz was once with Lucky Spencer (Jonathan Jackson) during the time he was a cop; did she have issues with him not spilling all of his case information to her too?
General Hospital Spoilers – Will Liz Ask Franco For An Annulment?
These two spoilers about Liz having enormous issues to overcome and Franco being devastated seem to go together. It seems Franco's reason for being devastated is that Liz will again ask for a separation or even for an annulment. But it is possible these two spoilers are about separate issues.
#GeneralHospital #GH Spoilers: #Julexis Reunited After All? Alexis' Dream Hints Julian Romance @celebratesoaps https://t.co/IeD2TMyY6l

— SOS/CTS/HH (@SoapOperaSpy) March 14, 2019
Liz's issues may be with Cam, and Franco's devastation may be in sympathy for Drew, because of Oscar Nero's (Garren Lake Stitt) condition worsening, or even hearing about what happened to Carly Corinthos (Laura Wright). After all, he and Carly used to be close and nearly got married.
Stay tuned to GH and keep checking General Hospital spoilers to see if Liz does indeed ask for space from Franco again, causing his devastation, or if this is about something else!