General Hospital Spoilers: Michael Unknowingly Spends Thanksgiving With His Own Son!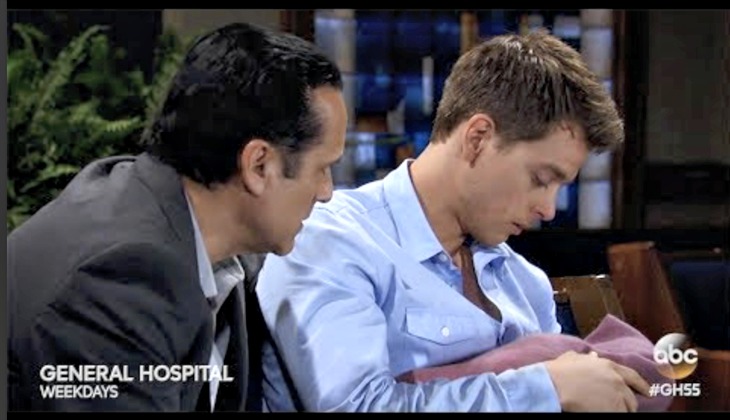 General Hospital spoilers tease that Michael Corinthos (Chad Duell) will unknowingly spend Thanksgiving with his own son! From what GH spoilers for Thanksgiving say, he will be spending Thanksgiving at the Corinthos home with Sonny and Carly Corinthos (Maurice Benard, Laura Wright), and apparently Brad Cooper (Parry Shen) and Lucas Jones (Ryan Carnes) as well, who naturally will bring baby Wiley Cooper-Jones (uncredited twins) aka Jonah Corinthos! Grandma Bobbie Spencer (Jacklyn Zeman) and little Avery Corinthos (Ava and Grace Scarola) will likely be there too.
Family get-togethers where baby Wiley and Michael are both there will, of course, continue to be a sad irony as Michael continues to grieve Jonah, not knowing he's alive. Of course, Brad's guilt continues to build every time he or he and Lucas run into Michael, knowing he is part of the reason for Michael's misery.
General Hospital Spoilers – Brad Continues To Live Under Nelle's Threat
Brad also continues to live under the very real threat of Wiley's mother, Nelle Benson (Chloe Lanier) deciding to spill the beans, and even possibly someday either kidnapping him or suing for custody! For all of Nelle's Carly-like methods, she seems to be prone much more to using Heather Webber's (Robin Mattson) playbook—and she's just as crazy!
General Hospital viewers wonder how much longer it will take for family members to wise up and investigate exactly WHY Jonah seems to remind everyone so much of Michael as a baby. Although other General Hospital spoilers have mentioned the Quartermaine birthmark several times, no one has ever found it on Wiley. Even if it were to be on his little baby tush, anyone who changed his diapers would see the birthmark!
Are we to believe that Grandma Bobbie's never changed his diapers, or Carly, or even Lucas? Lucas is a doctor….he wouldn't shy away from changing a dirty diaper; doctors have to endure dealing with blood and worse! And Monica Quartermaine (Leslie Charleson) has examined him several times and not noticed a birthmark, let alone the Quartermaine birthmark. So how will the truth come out about baby Wiley being baby Jonah? Stay tuned to GH and keep checking General Hospital spoilers frequently, because as the old saying goes, "the truth will out"!
Read more news, spoilers, and gossip on our Celebrating The Soaps General Hospital homepage