General Hospital Spoilers Monday December 18: Lulu Needs A Favor – Franco Comes Clean – Carly Confronts Sam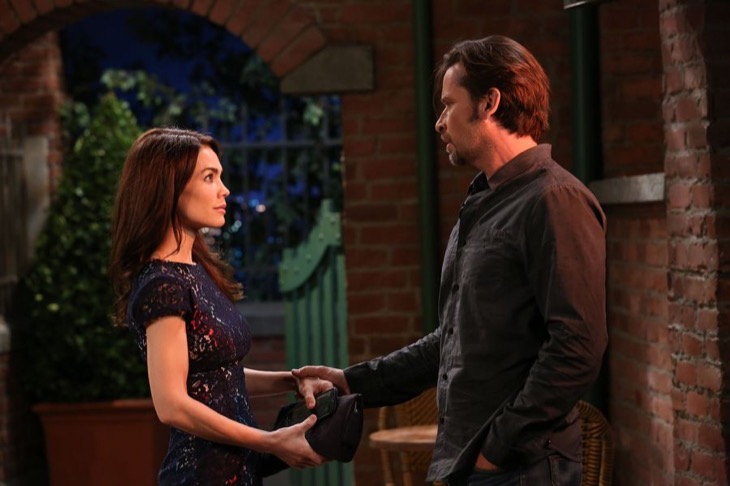 The General Hospital episode for Monday December 18 promises plenty of action and drama. Please be sure to tune in, you don't want to miss any of the drama.
Lulu (Emme Rylan) has found the ballots she needs to start her investigative journey on who was behind the rigged election of 2014. She just needs a little help. ABC General Hospital Spoilers tease Lulu's plan could put others in danger. Lulu meets up with her partner in crime Maxie (Kirsten Storms) and tells her she knows she is doing a million things for the holidays', but Lulu would like her to add just one more thing. Is Lulu going to ask her friend to join in her plan to expose the crime that took place back in 2014 and while Maxie is always down for some adventure will she want to join Lulu on this latest adventure now that she is with child? This has never really stopped Maxie before but perhaps she has become wiser with age.
Related: General Hospital Michelle Stafford Shares Heartwarming Sentiment About Motherhood
After that passionate kiss with Finn (Michael Easton) Anna (Finola Hughes) is not feeling so sure of herself right now. Perhaps a little talk with her friend Commissioner Jordan Ashford (Vanessa Antoine) will do the trick. General Hospital spoilers say Anna finds a way to reassert herself over the situation. Jordan runs into Anna and notices she is not her usual self. Jordan asks her if everything is ok, Anna responds that she is not sure. Could Anna need some advice? Will Jordan offer some solid advice for the love Lorne? After all, Jordan is not without troubles in her own love life, since she has discovered Andre (Anthony Montgomery) kept quiet about his marriage and divorce during the time they were dating.
Franco (Roger Howarth) decides to come clean with Elizabeth (Rebecca Herbst) about his knowledge regarding the twins. He may want to get everything out in the open so that he and Elizabeth will start their marriage with a clean slate. Unfortunately, Elizabeth's reaction may not be what Franco expected. Elizabeth's reaction is explosive as she demands to know if he could have proven everything "Why didn't you?" Franco is near tears as she confirms his misjudgments to her. Will Elizabeth forgive Franco? Elizabeth has had her share of keeping vital information from people in the past. Could she let this incident with Franco slide as she remembers her own guilt? Or could this be the end of their relationship?
Sam (Kelly Monaco) has made a decision regarding her marriage to Jason (Steve Burton). She tried to give him his wedding ring back, opening the door to continue her relationship with Drew (Billy Miller). Carly (Laura Wright) has never been one to mince her words or stay out of other people's business, especially those she considers her friends. This time is no different as General Hospital spoilers hint Carly can't help feeling sorry for a friend. She is very upset that Sam has chosen a man she really does not know over her best friend Jason Morgan. She tries to convince Sam that her decision is not sound. She tells Sam; "you love Jason." Will Sam tell Carly to mind her own business or will she consider her words and hold off making any decisions right now?
Drew makes another attempt at bonding with his Son Oscar (Garren Stitt). He sits across the table and tells his son that he can't remember. Will Oscar ever feel comfortable being with Drew? Will he ever call him dad? Will Drew be able to convince his son that despite the fact he can't remember anything about his mom or the relationship he had with her he can still love Oscar?
Sonny (Maurice Benard) and Jason meet at the Metro Court to discuss the next steps in their plan to find and expose the traitor. Jason tells Sonny that he believes Drew remembers a more than he realizes. How will Jason convince Drew of this? Will he visit Andre at the PCPD to confirm his theory? Will Andre admit that his experiment may have some kinks and there could be a possibility for a reversal? Could this reversal be dangerous and cause Drew lose more than Jason's memories; possibly his life?
LOVE GENERAL HOSPITAL? SIGN UP FOR OUR GH NEWSLETTER!
Be sure to tune in to watch General Hospital on ABC on Monday December 18 you won't want to miss any of the exciting drama.
Also, don't forget to check back with Celebrating the Soaps for all your latest news, updates, and spoilers for General Hospital along with all your other favorite daytime television soaps.
Also, don't forget to check back with Celebrating the Soaps for all your latest news, updates, and spoilers for General Hospital along with all your other favorite daytime television soaps.