General Hospital Spoilers: Monday, February 18 – Franco Balks At Jordan's Plan – Lulu Panics – Laura Seeks Answers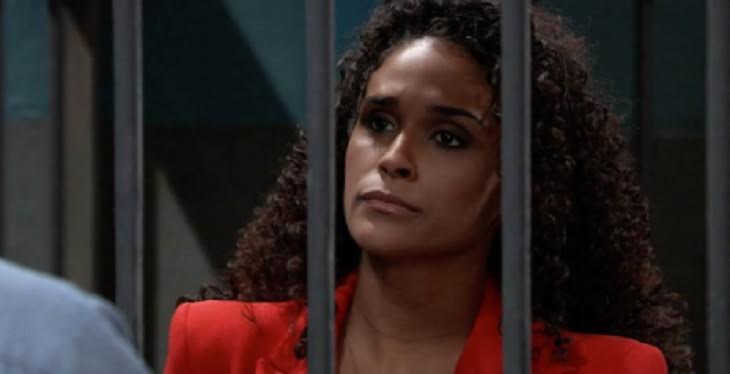 General Hospital spoilers for Monday, February 18, tease that Alexis Davis (Nancy Lee Grahn) will bump into her new therapist, Dr. Neil Byrne (Joe Flanigan), at The Floating Rib. It seems that these two are destined to cross paths no matter what, and they'll have another awkward conversation, as they're clearly attracted to each other.
Meanwhile, Harrison Chase (Josh Swickard) will go into detective mode with Willow Tait (Katelyn MacMullen), as they're enjoying an evening at The Floating Rib. The conversation will turn to Brad Cooper (Parry Shen), and Chase will pick up on the tension between Brad and Willow. "Do you have a problem with Brad Cooper?" Chase will ask.
Next, on the new episode of GH on Monday, February 19, Nina Reeves (Michelle Stafford) and Charlotte Cassadine (Scarlett Fernandez) will plan a big welcome home party for Lulu Falconeri (Emme Rylan), who's returning home after her attack. But all the commotion will cause a massive startle response from Lulu, possibly making her relive her attack.
At the jail, Franco Baldwin (Roger Howarth) will balk at Jordan Ashford's (Briana Nicole Henry) proposed plan. She will ask him to plead guilty to the murders and to Lulu's attack, in an attempt to make the actual killer overly confident and prone to being caught. But Franco will flatly refuse. "I'm not going to admit to killing Kiki!" he'll shout.
Maxie can't stand what Valentin's doing to Nina, West Coast. Is there any way to stop their rekindled romance in its tracks? #GH55
Tune into a dramatic, new #GH – STARTING NOW on ABC! @teenystweeting pic.twitter.com/Ug34HhEp1x

— General Hospital (@GeneralHospital) February 15, 2019
Meanwhile, Ryan Chamberlain (Jon Lindstrom) will have words with Kevin Collins (Jon Lindstrom) at Ferncliff. After Ava Jerome (Maura West) expressed surprise about Kevin and Laura Webber's (Genie Francis) supposed prenup, Ryan figured out that Kevin misled him. Ryan will be peeved and he'll realize that now he has to be more careful with Kevin.
Finally, on Monday, February 18, Laura will trail Ryan to Ferncliff. She knows that something's just not right with "Kevin," since he brought up a prenup, and she's determined to get to the bottom of what's going on. She'll urge someone at Ferncliff to help her, but it looks like she'll get some pushback. How long until she discovers that Kevin is actually being held captive there?
It looks like we're in for a great episode on Monday! Stay tuned to the ABC soap and don't forget to check Celebrating The Soaps often for the latest General Hospital spoilers, updates, and news.
Read more news, spoilers, and gossip on our Celebrating The Soaps General Hospital home