General Hospital Spoilers: Monday, February 4 – Sam Approaches Shiloh – Lulu Wants Hypnosis – Sonny Asks Anna For Help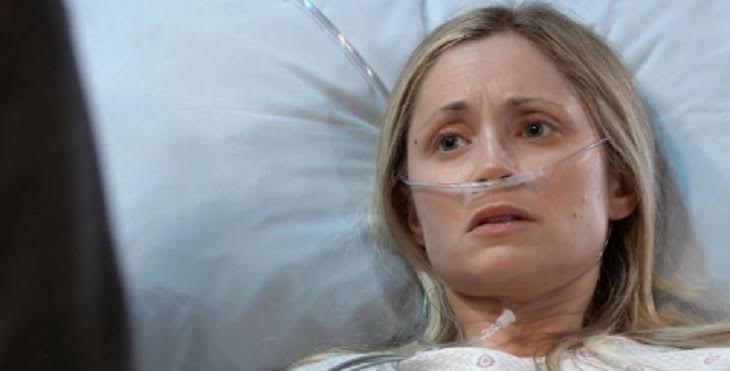 General Hospital spoilers for Monday, February 4, tease that Ava Jerome (Maura West) will corner Harrison Chase (Josh Swickard) with some tough questions about the serial killings. Ava's getting impatient with police investigation and she'll lay into Chase. "What are you doing to find the monster who killed my daughter?" she'll say.
Meanwhile, Sam McCall (Kelly Monaco) will meet up with Shiloh Archer (Coby Ryan McLaughlin) with a plan in mind. She's going to infiltrate Dawn Of Day (DOD) by pretending to need some life guidance that only Shiloh can provide. She'll take the first steps toward getting into DOD by cozying up to Shiloh and showing her vulnerable side.
Next, on the new episode of GH on Monday, February 4, Kristina Corinthos-Davis (Lexi Ainsworth) will be feeling energized. She'll be overjoyed that Sam is interested in joining DOD. This is exactly what Kristina has been wanting, as she's very enthusiastic about DOD and the special "gifts" it offers. Kristina will gush to Jason Morgan (Steve Burton) that "this is exactly what Sam needs."
At the hospital, Lulu Falconeri (Emme Rylan) will take a big step. She can't remember her attacker and she's frustrated that she can't be of more help to the police. On Monday's episode, she'll tell Laura Webber (Genie Francis) that she's ready to try hypnosis to jog her memory. "If hypnosis can help me remember the killer, I'm all for it," she'll insist.
Lulu's struggling to remember what happened to her, West Coast. What will it take to regain her memory? @EmmeRylan
A scary, new #GH STARTS NOW on ABC! #GH55 pic.twitter.com/UzAWNYlTAW

— General Hospital (@GeneralHospital) February 1, 2019
Meanwhile, Franco Baldwin (Roger Howarth) will get started re-integrating into therapy with Ryan Chamberlain (Jon Lindstrom). Of course, Ryan's got a plan to frame Franco for the murders he's committed, so he'll pump Franco for information. Franco will pour his heart out and unwittingly feed Ryan information.
Finally, Sonny Corinthos (Maurice Benard) will approach Anna Devane (Finola Hughes) looking for help. Sonny is desperate to track down Dante Falconeri (Dominick Zamprogna), and he'll hope that Anna will use her special skills to do so. But Anna's got a lot on her plate right now with the mystery virus/blindness matter. Will she help Sonny?
It looks like we're in for a great episode on Monday! Stay tuned to the ABC soap and don't forget to check Celebrating The Soaps often for the latest General Hospital spoilers, updates, and news.