General Hospital Spoilers: Monday, November 26 – Curtis And Jordan's Wedding – Josslyn Begs Oscar – Laura Rebukes Ava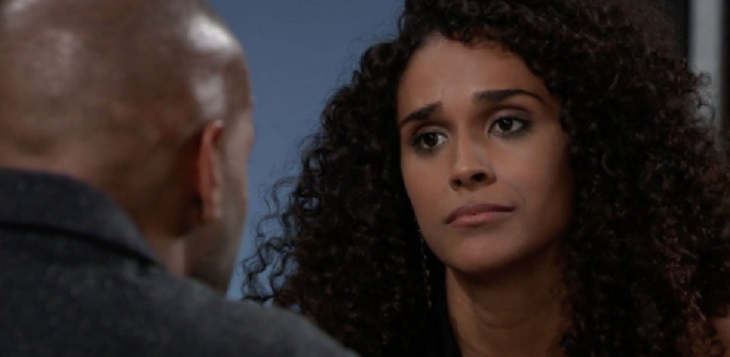 General Hospital spoilers for Monday, November 26, tease that Curtis (Donnell Turner) and Jordan's (Briana Nicole Henry) wedding will kick off with some pre-wedding toasts. As Jordan's getting dressed for the ceremony, Anna (Finola Hughes), Maxie (Kirsten Storms), Lulu (Emme Rylan), and Molly (Haley Pullos) will offer a toast to Jordan and there will be smiles all around.
Things will look a bit more serious during the wedding prep with Curtis, however, as Nina (Michelle Stafford) will have something serious to say. "There are some things I need to discuss with you," she'll say ominously. Perhaps she wants to fill Curtis in on the recent Sasha (Sofia Mattsson) drama. Nina just suspiciously found Sasha with Valentin (James Patrick Stuart), so she may have some questions about that relationship.
Meanwhile, Oscar (Garren Stitt) will be surprised by Josslyn (Eden McCoy) as he's cleaning up at Charlie's Pub. Cameron (William Lipton) filled Josslyn in on Oscar's illness, but Josslyn wants to hear it straight from Oscar. It looks like Oscar will try to deny being sick, but Josslyn will urge him to stop lying. Will he tell her the truth?
Next, on the new GH episode on Monday, November 26, Kim (Tamara Braun) and Drew (Billy Miller) will have a tough Thanksgiving without Oscar at their side. They'll try to get though the day without tension, but the topic of Oscar and his ordeal will eventually come up and the two will disagree. "I'm trying to save our son!" Kim will insist.
At the Quartermaines, Ned (Wally Kurth) will encounter Julian (William deVry) approaching the gathering with a big box. "What do you think you're doing?" Ned will ask suspiciously. Ned won't like the idea of Julian being present for the Thanksgiving holiday, but it looks like Julian will end up staying.
ATTN: #GH SUPER FANS: We're invading #Graceland for a one-of-a-kind celebration, Jan. 18th-20th, 2019! @VisitGraceland
CLICK FOR TICKETS: https://t.co/J0sIDrb4Vx #GH55 pic.twitter.com/VQ1u23gizr

— General Hospital (@GeneralHospital) November 16, 2018
At the Jerome Gallery, Laura (Genie Francis) will get an eyeful. She's just walked in on Ryan (Jon Lindstrom) and Ava (Maura West) kissing and she's not at all amused. Laura suspected there might be someone else involved when "Kevin" asked for a separation, and this will confirm it. Look for a major blowout between Laura and Ava, with Laura returning Ava's campaign donation and saying, "I don't accept blood money!"
Finally, on Monday, November 26, Sonny (Maurice Benard) will welcome a big group into his home for the holiday. Brad (Parry Shen), Lucas (Ryan Caries), and Wiley will be there, along with Bobbie (Jaclyn Zeman), Michael (Chad Duell), Mike (Max Gail), and Stella (Vernee Watson). The group will happily partake in a toast to the special day.
It looks like we're in for a great episode on Monday! Stay tuned to the ABC soap and don't forget to check Celebrating The Soaps often for the latest General Hospital spoilers, updates, and news.